All the Trimmings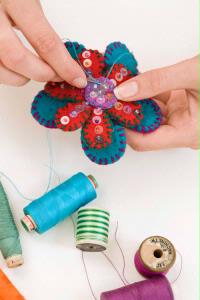 Trimmings: the extra elements that are used to decorate, personalise or update include: buttons and beading, ribbons, lace and fringing. Trimmings can be used on fashion garments furnishings or simply to wrap gifts or decorate the home.

Going natural
Berisford Ribbons, always at the forefront of ribbon design, has introduced Natural Charms, a wonderful new collection of retro inspired ribbons that reflect the current trend for a homespun look. From mottos and messages to stripes, spots and checks, the Natural Charms collection is available on small, conveniently sized natural reels. These ribbons have a hand-printed look perfect for home crafting. They are ideal for home and gift projects and will be very tempting to stash away (you never know when they'll come in handy!) or simply keep them out on display.

These retro ribbons are available on compact natural reels in three, four and ? five metre lengths or by the metre and in widths of seven, 15 and 25mm. As an alternative to the small cardboard reels, and for larger projects, Berisfords also stock all their designs on 20m crystal reels. For further information, contact the sales team on T: +44 (0)1260 274 011, E: office@berisfordsribbons.co.uk, www.berisfords-ribbons.co.uk.

Infused with colour
DMC Color Infusions is a brand new memory thread that is available in 28 colours and is suitable for card making, couching, decorative ? nishings, wrapping, sewing, hair braiding, cords and friendship bracelets. Each shuttle holds 2.7m of thread, RRP is £2.99 per shuttle. It is particularly effective when used to define stitched designs and can simply be bent and twisted into the required shape, then couched down with embroidery floss or invisible thread. For further information visit: www.dmccreative.co.uk.

Embroidery with a difference
Ribbon embroidery has its own groups of devotees among those interested in quilting, embroidery, dolls, miniature work and anyone who yearns for the beauty and pleasure that embroidery can bring. Having been in business for 30 years, Ribbon Designs is perfectly placed to respond to this renewed interest in ribbon embroidery and is supplying silk ribbons to the trade, teachers, craftsmen, schools, colleges and designers. "We pack our ribbons for the retail trade on Ribbon Cascades, which are inspirationally themed and colour co-ordinated hanging packs of ribbons available in pure silk as well as spark organdy, metal organdy, satin and rat tail. They are a boon to the designer and the creative worker," said Marilyn Becker of Ribbon Designs. Their silk ribbons have been used by museums and palaces, both in the UK and abroad. After focussing on silk ribbons, the company has put together some clearance parcels to clear reel ends and loose ribbons such as assorted satins and organdie in all widths of printed and fancy designs.

Join the chain gang
Chain Gallery's looplock and chain is perfect for holding keys, eyeglasses, work identification badges, scissors or as an accessory such as jean loopies. Chain Gallery is the sole distributor for the looplock which is made of ABS resin and is available in two sizes in rhodium plate, gunmetal, antique brass and black. In addition, Chain Gallery is a major supplier of jewellery chain and prepackaged findings in antique brass, antique copper, silver plate, gold plate, gunmetal, black and stainless steel. All chain is sold by the foot and there is no minimum purchase requirement. Further information from T: +001 586 201 9676, E: info@ChainGallery.com, www.ChainGallery.com.

Christmas with all the trimmings
Stop press.... it's not too late to think of Christmas according to Simon Gough of SE Simons, crafts, haberdashery and yarn suppliers. Simon said: "Christmas wouldn't be Christmas without thoughtful gifts, fabulous decorations and wonderful wrapping." With a range of over 7,000 ribbons and trimmings, there will definitely be something for everyone from the May Arts Ribbons collection, which SE Simons distribute in the UK. The range includes satin cut-outs of reindeer, Christmas trees, stockings, holly, gold and silver snowflakes, stunning velvets and more. There is tinsel edged sheer ribbon, metallic satins, sheer gold swirls plus red and green polka dots, plaids and stripes. Further information from T: +44 (0)117 955 4710, E: sales@sesimons.co.uk, www.sesimons.co.uk For further information T: +44 (0)208 958 4966, E: tradesales@silkribbon.co.uk, www.silkribbon.co.uk.
Date Posted: 12 March 2015