Articles
A Little Effort Goes a Long Way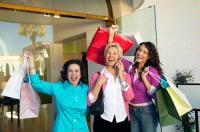 We all have certain shops or restaurants that we like to frequent because of the service we receive from the people that work there. The waitress at the local coffee shop who calls you by name and knows exactly what you mean when you ask for your usual. The assistant at the dry cleaners who knows exactly how you like your clothes cleaned and pressed and makes sure that they are done that way every time, on time.

There is no substitute for good customer service. After all, that's really what you're selling. Someone else will always have a better location, a larger range of stock and at better prices. Excellent customer service is what will put more money in the till. With competition from the department stores and larger chains increasing, this is even more important for SMEs (small and medium sized enterprises).

Provide excellent customer service by following these seven customer service points:

1. Customers love power
There is a certain feeling of power customers have when they are walking into a retail shop or store. They ARE the customer and therefore feel that they are in charge. Over the years, they have become accustomed to the old adage 'the customer is always right'. Though they are not always right, we certainly need them more than they need us. Let them be right even when they are obnoxious, rude or loud.

Want revenge? Let them be right and then sell them a more expensive item than they came in to buy. It's better to be wrong and rich, than right and poor!

2. Never interrupt your customers
People think and feel they're important...and they are! If you interrupt your customer, you are saying to them that they aren't important. Wait your turn, and you are more likely to make the sale. Try wrapping a plaster around your finger so tight that it hurts just to remind yourself to shut up and let the customer talk.

3. When your customers are talking, they're buying
The average person speaks at a rate of 125 to 150 words per minute. You are physically capable of hearing upwards of 1,000 words per minute. So when someone is talking to you at 150 words per minute, what do you do with the other 850 words left over? You probably get distracted and concentration becomes very difficult. Take on the burden of listening more than talking and you will have a more involved customer. Research shows that when customers are talking, they are, in a sense, buying. It's when they are quiet that you're in trouble.

4. Conversations should be two-way
Have you ever tried to get into a conversation with a customer who finds talking almost impossible? Quality questions have always driven a fine presentation. Your ability to ask specific questions to draw answers from your customer is essential. When all else fails, the easiest way to get a customer to start talking is to close the sale. This sounds ridiculous, but no matter where you are in the conversation, this puts the burden on the customer to tell you how they feel about the offer.

5. Stay in control
Left to their own devices, customers will run you around the store causing all sorts of confusion, most of the time resulting in no sale. Control can be maintained in any sales presentation if the following things are in place:

- A total understanding of the sales process
- People knowledge
- Product knowledge
- Complete knowledge of stock holding

'Winging it' is the problem. When you wing it you have a very difficult time controlling the sale, and making your customers feel comfortable enough to buy.

6. Certainty is the key
The amateur wonders if customers are going to buy. The professional knows they are going to buy - it's only a matter of what and how much. Certainty comes from the accumulation of knowledge and experience. People who choose to shop with you have a conscious or even a subconscious desire to own what you are selling. So unless you have a crystal ball, assume everyone is going to buy and start your journey into finding out what it is.

7. Sell with enthusiasm whether you love it or hate it
Selling merchandise you like is certainly easier than selling anything you dislike. You may like a particular range, item or brand and never want to show alternatives, or you may be bored by the same old stock and only want to show what's new.

What matters is what the customer wants, not what you like or think is best. The moment you can sell the merchandise that you personally dislike with as much enthusiasm as the merchandise you love, that is the moment you can begin to call yourself a professional. Listen to your customers and show enthusiasm while you help and steer on the items that they want or need.

Retail selling today is remarkably different than in the past. With more and tougher competition, consumers have much more of a choice of where they shop, and more importantly, where they shop more than once.

Start using the customer service points in this article. You can set yourself apart from your competition and build a loyal customer base - you just have to dare to be different!

Further information
Nick Waller is Sales Director for UK Flooring Direct, the UK's leading online flooring retailer.
Nick can be contacted on T: +44 (0)2476 012 181 or +44 (0)7817 249 882, or by email at nickwaller@ukflooringdirect.co.uk.
Date Posted: