Beautiful Beading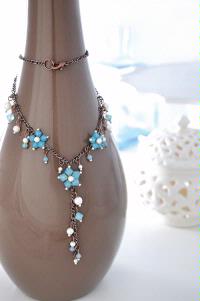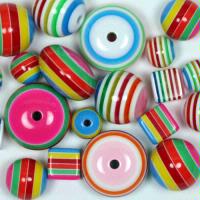 Beads are big news this year. Back in the 1960s, both men and women wore them, and now the retro look is back in fashion - this time with a 21st century twist Peak Dale Products told us. "Steam Punk is the latest look - a quirky, yet appealing mix of antique-look, brass coloured jewellery and decorative items with a feminine touch, such as flowers and ribbons. Think Victorian meets modern day"

Michelle Powell, editor of Beads & Beyond magazine, suggest that you try and choose an area of beading that suits your store. If you have a large customer base which enjoys rubber stamping, maybe try mixed media jewellery and stock pendant blanks, resin and funky ball style chain. If you have a fabric store, consider introducing a felted bead section and a good range of wooden blank beads that can be fabric covered. If your customer base enjoy cross stitch, them maybe the intricate nature of seed beading will be a good place to start, so stock seed beads, needles, Delica beads and Nymo thread.

STEAM PUNK IS HOT
"This year Beads Unlimited are celebrating 25 years in business and are still on a strong upward curve," said owner Geoff Ellis. He has just been on a trip to China with chief buyer and designer Gemma Gray, to source a whole host of new and exciting beads to add to the Beads Unlimited stock-pile of goodies. They predict trends for this season include antique gold chain and fi ndings which are hot, hot hot in the world of beading and a key tone in Steam Punk style. "Happily, these muted metal tones look fabulous with honeysuckle, Pantone's colour for 2011. Honeysuckle is a striking reddish pink that complements almost all skin tones. The wide appeal of this colour makes it a number one consideration for retailers large and small," Geoff said.

"Chain maille is also a big design feature this year. With a little practice, the basic methods can be mastered to produce stunning creations. It's just one of the techniques you can learn at Beads Unlimited's beading classes held at their retail outlet, The Brighton Bead Shop," added Geoff. To further help their trade customers, Beads Unlimited has recently launched a trade website on which customers can get credit terms, discounted prices, free post and packing, a dedicated retailers' advisor and many other benefits. For details visit: www.beadsunlimited.co.uk.

BRIGHT, BOLD COLOURS
New products from Creative Beadcraft include these striped resin beads, available in five shapes and perfect for wearing with this season's bright block colours. Prices start from 50p each or £1 for ten 12mm balls. Their range of metal beads and pendants has also been expanded. "The new big metal fl ower and butterfl y pendants are ideal for summer. Or try the extended range of copper coated beads and pendants. These are acrylic with a quality metal plating so that they look like metal but without the weight," explained Creative Beadcraft. Further info: T: +44 (0)1494 786 924, E: beads@creativebeadcraft.co.uk, www.creativebeadcraft.co.uk.

FLOWER POWER
In spring and summer, flowers are always popular. La Fourmi therefore find that anything with a floral base is popular at this time of year and even more so this year. "We reflect the natural flowers about us, drop our winter gear and look for fresh flower designs. Each year the flowers change and may be stylised, or components mixed with other beads, wires and materials," they explained.

As metal is particularly popular, they have put together a concept of flowers and metal filigree components. "You simply start with a large filigree, add a medium one, add a flower or two and stack them on a head pin, and it's done. The compositions are endless and can then be mounted into jewellery," said La Fourmi. The metal flowers and filigrees are now available in pinks, blues, black, white and silver. "Roses are also in abundance, we have them in metal but also lovely little resin ones that you can stick on to anything," they added. They also have some uneven resin discs that also stack into flowers, for a more modern stylised look. Further details: E: info@cordslafourmi.com, www.cordslafourmi.com.

BEADWORK
Beadwork is beautiful because it is so easy and so glamorous. It also enables beading to be used in a different area of crafting - stitching. "You can stitch each bead on with a simple half cross stitch, so the technique is a breeze," explained expert bead worker Eliza McClelland. "The fun comes in that you can use so many different shades and get huge depth of colour and it is still quick as all the beads are stitched on with one thread instead of all that starting up, finishing off, counting or leaving gaps that happens when working with yarns. Or you can pile lots of beads on and get fab, scrunchy textures - all with the one stitch," she added.

TOOLS OF THE TRADE
Specialist pliers
Those who are into beading will also need various tools with which to create their pieces. Recognising the similarities between the intricate work of doctors and dentists and that of jewellery makers and craft workers, Mr Murray Burfitt, MD of Burfitt Medical, has transformed specialist medical instrument into "the most effective equipment for craft work and hobbyists." The latest addition to the Burfitt range is the new and exciting bow or circlip plier. "It's an ideal tool for opening up or keeping apart links," said Murray. It works in reverse from normal pliers that close shut when squeezed together and features long, high precision tips with three gripping slots on each jaw, a thinner nose piece for access to tight areas and ergonomic, anti-slip PVC handles. The bailing plier is another new addition to the range. "There are many tools you can use to coil wire and make consistent sized loops. The bail forming pliers are yet another option which can help you make connectors, clasps, ear wires and jump rings. These pliers make two different sizes of rings - 9mm and 7mm." For further information: www.burfitt.com.au.

BRIGHT LIGHTING
Lighting is very important when working on fine beading projects. Daylight, the leading specialist lighting designer, has recently unveiled its most powerful art (beading and jewellery making) lamp to date. "The Triple Bright Light delivers an incredible 250w, brighter and whiter than any other lamp and is the brightest lamp in Daylight's comprehensive range of lighting options" explained Daylight. The brilliance of the light and intelligent design makes it ideal for use in creative environments that require optimum lighting. It enables users to continue crafting into the evenings, when natural light fades etc. "The flexibility of the light source positioning is a key feature of this innovative lamp. The shade can be adjusted to every required angle and is well suited for illuminating wide work areas where plenty of shadow-free light is needed." The Triple Bright Light has a high quality metal arm with internal springs, a strong metal lamp stem and clamp making it robust and durable. The rrp is £124.99 and it is available from Spring 2011. Further details: T: +44 (0)20 8964 1200, www.daylightcompany.com.

WEAVING
Peak Dale Products has just produced The Ultimate Loom, a tabletop loom that allows you to face the work so you don't have to bend over. This is far better for posture and enables users to work for longer periods without suffering back or neck problems. The Ultimate Loom is wider than most, so work can be up to 15 cm wide. It's perfect for making beautiful beaded bags, chokers or bracelets. "Everything is included to get keen crafters started in this simple, but rewarding, hobby. The kit retails at £18.99 and once your customers have bought it, they will keep coming back to you for more beads," said Peak Dale Products. Further info T: +44 (0)1298 78447, www.peakdaleproducts.co.uk.

HOT TRENDS IN JEWELLERY MAKING
We can all see what trends are in when they hit the high street, and of course, what celebrities are wearing can often influence trends. However, the real trick is to predict what is going to be hot and in fashion. We've already heard of Steam Punk, but in addition, Michelle Powell, editor of Beads and Beyond magazine suggests other trends worth watching.

VINTAGE
As with most other lifestyle areas the credit crunch has generated a huge trend for all things vintage and in jewellery making that means upcycling! Michelle Powell said, "Vintage pieces and old jewellery are being snapped up at car boot sales and charity stores to be pulled apart to recreate something modern but with a real feel of nostalgia. Pearls, antiques findings and diamante brooches all work well for this look. Venetian style seed bead and wire flowers are also gaining popularity, again for their vintage feel. Nude shades and necklaces featuring multiple blooms are very chic and easy to make with a little practice, plenty of wire and seed beads!" added Michelle.

COPPER
Copper is also big news, partly as the price of precious metals is currently so high that many jewellers have turned to copper as a slightly more affordable alternative.

WATCHES
Pocket watches are also having a revival, this time as components of long bohemian style necklaces or as a quirky element on a charm bracelet, along with a selection of kitsch or cutesy owls and birds!

STOCKING BEADING SUPPLIES
Michelle has some tips on selling beads. "If you're considering introducing a beading section to your store, make sure you have an eye-catching display of beads and a selection of the essential findings and tools along with plenty of design inspiration!" She explained that beginners will tend to be attracted to sparkly colourful beads and those that offer great value, so they can make several pieces of jewellery for just a few pounds. Look out for glass beads and strings of crystals that really will draw attention, Temporary strung beads are so appealing as they already look like jewellery and so it's easy for a beginner to visualise the finished item, and no crafter can resist a beautiful sparkly array of different colours to choose from!

Creative Beadcraft agreed that "A selection of fashion items and eye-catching pendants is a great way of re-vitalising your staple range," A few simple pieces of jewellery in a prominent place are a great way of showing customers how they can put a look together. "Big bold pieces are currently very popular, for example using semi-precious stones. Alternatively, go for the ethnic look by using lots of seed beads to create long stranded necklaces. Stock up on bright colours such as red, orange and fuchsia for sizzling summer appeal," they added.

Peak Dale Products also feel retailers should always have plenty of the basics in stock, Beaders will always need thread, seed beads, spacers etc., but shops should stock big statement beads more sparingly. They are very fashion-led, and if you buy too many, you could be left with a lot on your hands when the trend suddenly changes. It's much better to stock little and often, introducing new beads every time you order.

The final word goes to Michelle Powell "Whatever you choose to stock, the golden rule is to inspire your customers with plenty of design inspiration, actual finished samples are perfect and the more you have the more your tills will ring. If you don't have time to make samples, make sure you stock a good selection of beading books and magazines, such as Beads & Beyond so that your customers can still be inspired to create!"
Date Posted: