Articles
Tracking the trends for 2013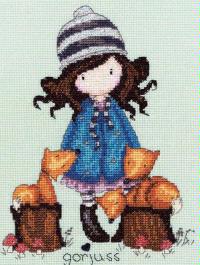 Whatever the industry, and the craft world is no different, everyone in retail is always looking for the next big thing. We take a look at what's hot in crafting for 2013

Crossover crafters
Different techniques from one craft are starting to crossover into other crafts. Craft experts have witnessed that many crafters are now becoming interested in learning more than one craft at a time and are starting to combine their skills - crocheters are using their crochet to make jewellery, while papercrafters are using sewing machines to add stitching. This development is opening up lots of new possibilities for creativity.

Animal magic
Animals always feature on crafts. The owl was the mascot of crafts in 2012, but 2013 will see this feathered critter replaced by other animals like the fox and horse, which are making their appearances on an array printed fabrics, tapestry designs and animals kits.

In colour
Pantone is the most universally used and respected authority in colour, with everything from large retailers to small design studios following Pantone's forecasts. Pantone colour experts have predicted the influential colours for winter 2013, starting with the continued of use of bright and vibrant colours like orange and green with rich shades of purple being used with a contrasting matt black. There's also a lot of sparkle appearing in jewellery making as well as in yarns and paints. Metallic shades are still popular to complement subtle pinks to grey browns.

Think big
For knitters and crocheters, bigger is better, with the latest innovation being knitting on oversized needles with inspirational new yarns made from recycled materials (Hoooked Zpagetti crochet yarn, distributed by DMC is shown here).

Patriotism
With the Golden Jubilee and Olympics behind us, patriotic crafting is still on the rise and extremely popular with the Union Jack being used on textiles, cross-stitch, tapestry and papercrafts.

Steampunk statement jewellery Jewellery is the ultimate in wearable art and with the Renaissance resurgence, Steampunk jewellery findings remain well-liked.

Needlecraft
Needlecraft has had a marvellous revival over the last few years, and crafters have discovered that it's fun and challenging. The invention of new yarns offers a great opportunity for retailers to cash in, with many providing areas within their shops solely for this activity.

Tips for keeping up with the trends
- Visit arts and crafts events, fashion shows and read blogs and visit Pinterest to get an idea what that next big thing is.
- Attract dedicated consumers by recognising different craft groups in the market and merchandise them by craft.
- Outsmart your competitors by finding new product sources to reveal new techniques and ways to create and collaborate with suppliers.
Date Posted: