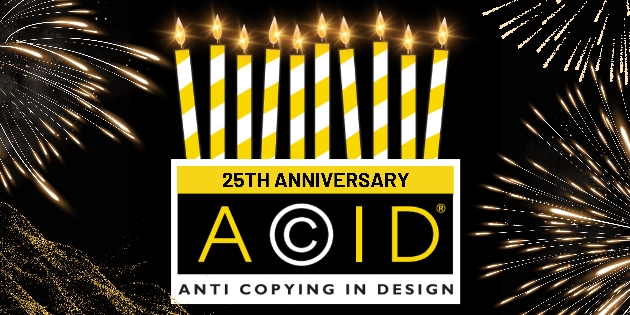 ACID's trailblazing work and ongoing campaigning has been a game changer in championing designers and the importance of their intellectual property rights' protection. This has influenced and brought about positive change in the legal and political landscape. The Design Economy is one of the success stories of the UK contributing nearly £100 billion to the UK's GVA and the protection of its intellectual capital is critical.

In its 25th year, they want to shine a light on, and celebrate with everyone the huge success that has been achieved since the organisation was co-founded by Dids Macdonald (a designer maker) and Simon Clark (an IP lawyer and Partner of Bristows). From a round table action group it has grown to be a key influencer in design law reform over many years.

Dids Macdonald OBE., CEO and Co-founder of ACID, said, "Little did I know that when I was copied so much as a designer it would change the course of my life. I vowed I would try and hold those that steal to account. One of the greatest accolades was when one of the directors of a serial retail copyist called me "that troublesome woman from ACID!

"However, there is still much to be done to change the pervading culture of design theft. UK designers are some of the best in the world and the zeitgeist of tomorrow's innovation and I look forward to ACID continuing to make waves in the fight for IP respect, ethics, and compliance. My thanks go to Simon Clark for being such a champion for change in the early days and to Nick Kounoupias, ACID's legal counsel for his tireless dedication and advocacy for ACID members and the broader design community's IP rights."

It is a time to celebrate, but also an opportunity for a call to action, a reminder to all that ACID's work remains more crucial than ever as the infringement of original work is an ongoing crisis.

Check out www.acid.uk.com

Anti Copying in Design (ACID) is a trade association for designers and manufacturers with a diverse membership ranging from individuals to multinationals and spanning many industry sectors. The organisation is committed to fighting design theft and lobbying Parliament for design law reform. Members have many free benefits including access to a specialist intellectual property legal hotline for initial free advice and, if relying on unregistered Community or UK design rights, have unlimited use of the ACID IP Databank to help protect their intellectual property (IP) Rights. ACID's key objectives are protection, deterrence and education, working towards a safer commercial trading framework, enabling originators to fully exploit and maximise their IP rights.