Dedicated to sourcing sustainable alternatives to traditional methods of production, design and packaging, Curious Universe announces a new line of licensed Squishmallows Arts & Crafts products for 2023. With multiple industry accolades under its belt, including Toy of The Year 2022, Squishmallows continues to be an incredible success story that is now set to take the world of Arts & Crafts by storm. Incorporating a host of cute, colourful Squishmallows styles the new collection from Curious Universe will include a Crystal Creations Carry Case, Crystal Creations Folder and a Colour and Carry Activity Kit, alongside multiple new designs within the Kaleidoscope branded collection.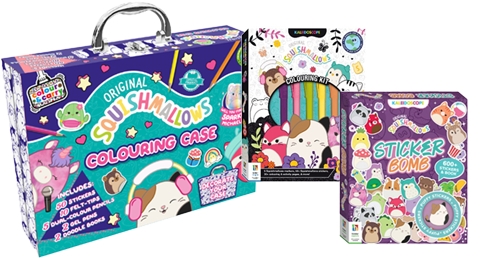 With sales of over 1.8 million to date, the company's best-selling Kaleidoscope Colouring Kit has been reimagined for 2023 with a new sustainable and eco-friendly format. Experience the world of Squishmallows with on-theme activity content and puffy, tactile stickers, all encased within a perforated card packet – there's no single use plastic! The clean, modern pack design includes a die-cut colouring pad and the recyclable packaging emblazoned with an environmental logo helps parents and gift givers to make informed purchasing decisions. This logo will run across many of the new Curious Universe products for 2023, in line with the company's ongoing commitment to developing sustainable products.

Another best-selling format in Curious Universe's portfolio to incorporate the loveable Squishmallows Squad is the Colour and Carry Activity Kit. This format has been creatively reimagined to address the demand for eco-friendly solutions. The plastic insert tray that usually holds the internal components has been replaced with a cardboard alternative. These small changes, once introduced to a whole range, can make a huge difference to our eco-footprint.

Additional Squishmallows licensed products within the Kaleidoscope range include Kaleidoscope Sticker Bomb containing over 500 stickers and finely-detailed Squishmallows Etch Art Creations.

John Styring, CEO, said: 'Creating sustainable product that also brings tons of fun to the consumer is at the core of what we do here at Curious Universe. That is why we are delighted with our new partnership with Jazwares and their incredible brand Squishmallows. We can't wait to captivate fans through our innovative array of Arts & Crafts products'.