Pentel is delighted to announce the winners of its #LovePentelPens competition, in which end-users receiving special Pentel sample packs were encouraged to vote for their favourite independent retail stationer. Online stationery shop Under the Rowan Trees secured the highest number of votes, while Oswestry-based Meraki Colour came second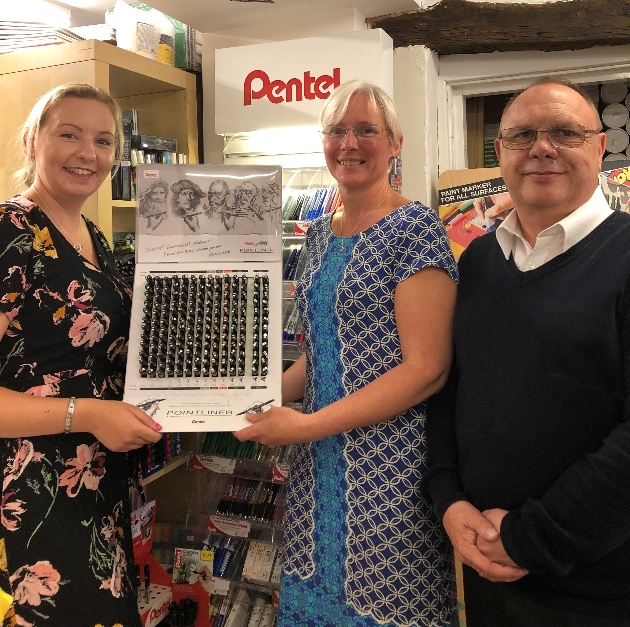 Pentel co-ordinated the #LovePentelPens activity to complement its sponsorship of a day during this year's National Stationery Week. The campaign saw Pentel provide sample packs of new products including the iZee 4 Colour Pen, the Twin-Tip Brush Sign Pen and Pointliner pigment ink pen, plus the refillable EnerGel X pen, made using 84 per cent recycled material.

After receiving their sample packs consumers were asked to vote for their favourite independent stationery retailer via the National Stationery Week Facebook page, ensuring they tagged their post with #LovePentelPens.

The retailer with the highest number of votes won a selection of Pentel displays with product worth £1000 at full retail price, while the runner-up received displays to the value of £500.

Danielle Stanley owner of Under the Rowan Trees said, "I was so excited to take part in the Pentel promotion for National Stationery Week as our customers love trying new pens and giving us their feedback. The sample packs were so popular that they were all gone by mid-morning! We are very lucky to have an incredibly loyal and supportive customer base and it was amazing to see how many of our customers took the time to vote for us as their favourite independent retailer. It's a great opportunity for us to try some new products that we haven't stocked before and we #LovePentelPens!"

Sam Thurston and Laurie Jones of runner-up Meraki Colour commented, "We were really pleased to take part in Pentel's sampling activity. It's great to be able to get new products into our customers' hands. They are such good quality, and we find that once someone purchases a Pentel they don't usually come back for anything else."

Pentel participated in National Stationery Week as a sponsor for the first time this year and set a key objective to ensure that trade customers and consumers alike were motivated to participate in the #LovePentelPens campaign. Not only were retailers able to receive samples for their customers, with the possibility to win a prize display package, but end-users who voted were also entered into a prize draw, and 50 winners chosen at random each received a Pentel goody bag worth £15.

This year's highly successful National Stationery Week was co-ordinated by award-winning independent stationery retailer champion Sarah Laker, of Stationery Supplies. Sarah commented, "I was delighted with Pentel's National Stationery Week campaign; it truly embodied the aim of the week – both that writing matters and to encourage customers to shop with independent stationers. It was really heart-warming to read the comments on social media written by the customers about their favourite stationery retailers."