Manuscript Pen Company Ltd is excited to announce the launch of its globally recognised calligraphy products with new plastic free packaging. The sought-after product range will no-longer feature single-use plastic clam packaging, instead, Manuscript's much loved calligraphy products will be presented in 100% recyclable cardboard offering a sustainable packaging solution.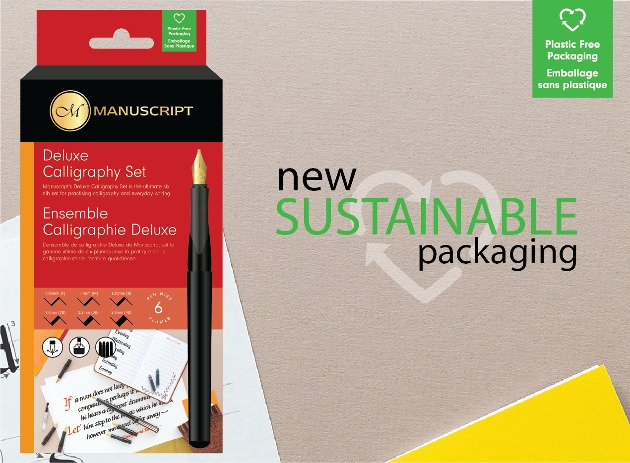 The 'Modern Heritage' concept inspires each Manuscript collection, blending old and new elements to produce a unique assortment that combines Manuscript's traditional colour schemes with a contemporary twist. Manuscript's calligraphy product lines, include Classic Fountain Pen Calligraphy, Modern Calligraphy, Traditional Dip Pen Calligraphy, Callicreative Italic Markers, Heritage, and Everyday Stationery, showcase sleek designs, striking graphics, and captivating lifestyle imagery.

Charlie Stockbridge, Managing Director explains, "We're very proud of the launch of Manuscript's new Plastic Free Packaging. As a forward thinking company, we are delighted to push ahead with an important innovation in our product cycle. Our new designs pave the way for a more sustainable future, whilst also staying true to our long and illustrious heritage with exceptional quality supplies."

Manuscript Pen Company Ltd will be showcasing the new Plastic Free Packaging at the London Stationery Show 2023, at the Business Design Centre from the 16th and 17th of May. You will also be able to see what's new across Manuscript Brands distribution portfolio. Discover LEGO® newness, exciting products from Pininfarina Segno featuring Banksy's iconic graffiti artwork. Explore new product launches from art and stationery brand artPOP! and enjoy a whole host of luxury pens from some of the biggest pen brands in the industry including; Visconti, Sheaffer, Diplomat, Pininfarina Segno, Monteverde, Conklin, Pineider, Tom's Studio. Many, many more brands will be on display including The Lionheart Tales, Chameleon, Karin, LEGO® Stationery, Key Chain Lights & Bag Tags.