The Hahnemühle calendar painting competition 2023 is open! This year's theme is: Colours of the Earth. The beauty of the earth in its breathtaking blaze of colours offers a variety of motifs: whether this is the orange glowing deserts, the bright red protruding Uluru Rock, the Canadian Indian Summer, or the ocean with its numerous shades of blue. Plants in their varied colours and habitats, but also bright spices, colourful traditional costumes, and the deep, dark, starry night, they all stand for the 'Colours of the Earth'. Plus so much more... Every country, every region has an immense wealth of colours. Show Hahnemühle your colours of the earth and be in the chance of winning!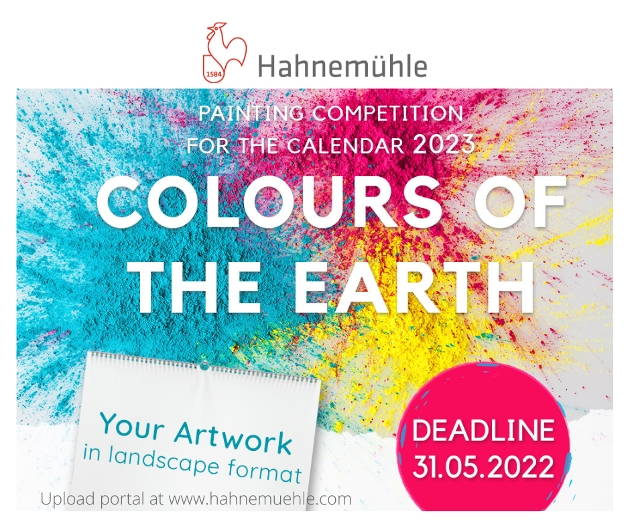 The contest is open for works of art in all painting, drawing and traditional etching techniques as well as mixed media that have been created on a Hahnemühle or Lana paper. Each image must be suitable for reproduction for the calendar in at least 40cm (W) x 30cm (H) in landscape format.

By participating in the competition, each participant assures that they're the sole author of the images submitted to the competition, that they're free to dispose of the work and the rights of use and confirms that the works are free from third-party rights.

A jury of experts will select the 12 best motifs from all of the permitted image submissions submitted in good time. The jury can request the originals from the participant for the final selection. The costs for sending in the originals are borne by the participant. Hahnemühle will return the originals after the end of the competition and will bear the costs for the return. The judgment of the jury is not contestable.

The 12 best motifs selected by the jury will be published in the 2023 Hahnemühle calendar!

The winners will be notified in writing by December 31, 2022 and announced on the website www.hahnemuehle.com. Each of the 12 winners receive an exclusive creative package worth a total of 350 as well as 10 copies of the 2023 calendar.

Five entries are allowed per person. Entries can be submitted until May, 31st 2022 exclusively via the upload portal on the website www.hahnemuehle.com

Please read the full Ts & Cs and further information on their website.

Good luck!