Hannah is launching a new creative printing pack; a Stationery Printing Kit, which enables you to learn how to lino print and to hand print your own set of stationery products. Hannah's videos will support you every step of the way to print cards, wrapping paper and tags, and a notebook for all your journaling needs.
Hannah Turlington is a printmaker, living and practicing in north Yorkshire, whose work is defined as fine art, designs, workshops,(both online and face to face) and commissions.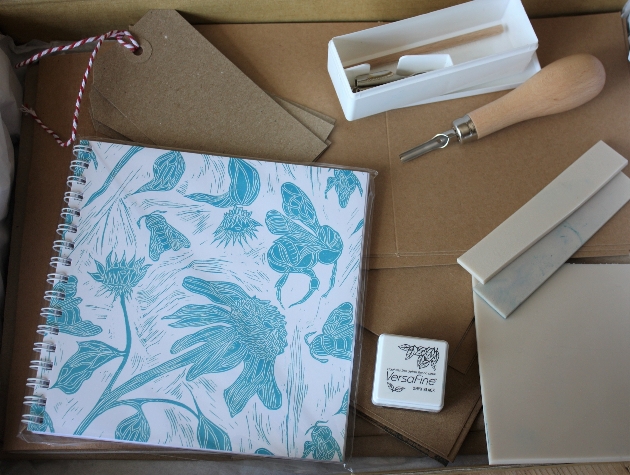 Hannah is a teacher, with 21 years of experience, and is using these skills to create lino printing packs for you to do from your own home. She already has put together two successful printing packs; tea towel printing and apron printing. The packs arrive through your door with video links emailed for you to access to support you with your creativity.

Hannah specialises in telling stories with her art. She says: '"I'm a story teller and I use my work to tell those stories. Sometimes they belong to me; Sometimes they belong to others but usually they belong to all of us."

Hannah recognises the importance of having things that mean something to us and she knows that learning the skills to create something beautiful is a wonderful. The kits are ideal for taking away on a staycation and completing by yourself, or with friends.

The Stationery Printing Kit includes soft cut linoleum block, lino cutting tools, ink pad, in a dark colour, a sketch book in one of Hannah's designs, five craft recycled cards and envelopes, A5 craft recycled notebook, five craft luggage tags and 1.5m of craft wrapping paper. The Stationery Printing Kit is encased in tissue paper and beautifully boxed before being posted to your chosen destination.

The Stationery Printing Kits are available through the shop on her website, www.hannahturlingtondesigns.com , priced £90 including postage and packing within UK.