This year's Giftionery & Culture Creative Taipei took place from 22nd to 25th April, 2021 at the Taipei World Trade Centre, Exhibition Hall 1. An online version of the exhibition also launched on April 22nd 2021, and will remain live until May 21st 2021, allowing visitors worldwide to participate too. The event brings together 298 domestic and foreign manufacturers, showcasing exquisite products including creative gifts, novel office stationery and crafts.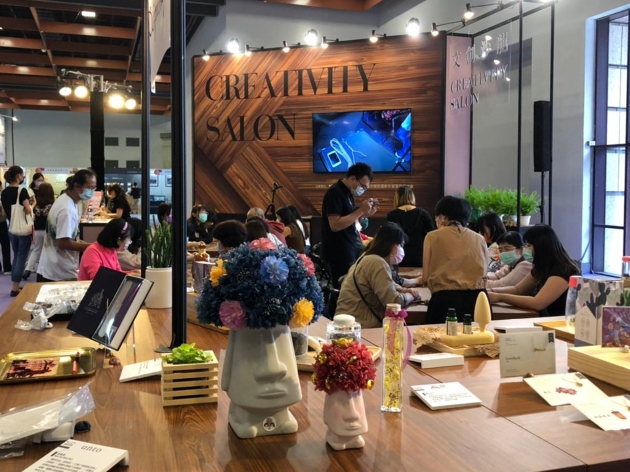 The online platform showcases exhibitors' products and allows visitors to set up online meetings and chat with exhibitors in real-time. Moreover, the platform features international forums and video tours of booths at the physical exhibition. The forums will see Home Fashion News from France, The Mall Group from Thailand, and Shopping Design from Taiwan share cultural and creative design trends, cultural creativity distribution channels in the ASEAN region, and insight into Taiwan's creative momentum.

This year's exhibition brings together international brands as well as start-ups, displaying innovative gifts with superior functionality and aesthetic appeal. Local Taiwanese associations such as the Gift and Houseware Exporters Association, Association of Stationery Industries, Bags Association, Glove Manufacturers Association, Towel Industry Association, Toy and Children's Article Manufacturers Association, Watch & Clock Industrial Association, Hosiery Manufacturers Association, and the Good Design Association, which is participating for the first time, have also brought innovative and high-quality products to satisfy the purchasing needs of distributors, as well as companies seeking corporate gifts.

In addition to the highlights outlined above, the following products are on show, examples of high-end gifts with a Taiwanese aesthetic: LuftQi's personal, portable air purifier, which has won the Taiwan Excellence Award and CES Innovation Awards; Yajhih's elegant necklaces featuring classic Taiwanese cultural elements such as sky lanterns, Xiaolongbao, and bubble tea; Orison's energy-efficient LED, wooden-text lights which combine environmental consciousness with fine craftsmanship; TICO's miniature blocks for creating models such as McDonald's restaurants and Starbucks cafés; and San-he's products, created using a red earth brick-kiln in Taiwan, which incorporate creative cultural designs. In addition, well-known brands such as ACERA, LohasPottery, IWI, and CeramicDeco are showcasing designs which combine both Eastern and Western artistic elements, and display their unique taste in cultural creativity.

The show's overseas exhibitor area features handicrafts from Indonesia, as well as Latin American and African countries. In particular, the Kingdom of Eswatini is hosting a handcrafted art gallery at its pavilion, with a total of 10 manufacturers displaying hand-woven necklaces, baskets and plates, hand-made candles, ceramics, leather products, marula oil, and more. Meanwhile, the Latin American Pavilion showcases Guatemalan backpacks and worry dolls, Nicaraguan placemats and pots, and Paraguayan woodwork and bamboo weaving. These are environmentally-friendly and practical, and highlight how creativity can be found all over the world.

For the first time, this year's exhibition was held in conjunction with the Creative Expo Taiwan, hosted by Taiwan's Ministry of Culture. Shuttle buses looped around Taipei Expo Park, Songshan Cultural Park and the World Trade Centre, allowing buyers and exhibitors to move easily between the two shows. Each exhibition covers different themes and functions, with both acting as a breeding ground for creativity and innovation, inspiring those in the creative and cultural industry, and filling Taipei with creativity and culture for a whole week.

Visit the show's official website https://www.giftionery.net/en/index.html for the latest updates and to register for the online show.