OLFA is now back on the scene with a much larger range of crafting tools in stock than ever before. So whether it's model making, paper cutting or intricate designs, OLFA has perfect tools for you. With decades of expertise under their belt, OLFA's origins can be traced back to 1956, when Mr. Yoshio Okada, the founder of OLFA, invented the world's first snap-off blade cutter. The inspiration for this innovative idea came from breaking off segments of chocolate bars and analysing the snapped edges of broken glass. This invention sparked a series of original products, including the world's first rotary cutter.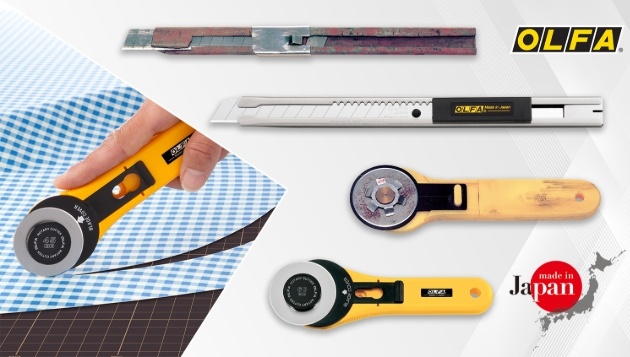 OLFA's rotary cutter was invented in 1979 and revolutionized the way in which people cut fabric by switching them from using scissors to rolling a circular blade over a range of different materials.

Each OLFA tool comes with a wide selection of specialist blades; made with top quality materials, forged with technologies that stem from traditional sword-making, sharpened with technologies that give a blade life, and ultimately finished with the craftsmanship that brings all of this together. Every single OLFA product is designed, developed and manufactured in Japan and subjected to stringent quality checks throughout the process.

Call +44 (0)20 8204 1422 or visit the website: www.olfauk.com for further information.