The company expands its Crystal Art Winter 2020 portfolio with the addition of some stunning new designs from Thomas Kinkade - celebrated world-renowned artist and Painter of Light. Rendered in highly idealistic values of American scene painting, Thomas Kinkade's much-loved works often portrayidyllic countryside settings such as gardens, streams, stone cottages and lighthouses. Known for his realistic and pastoral subjects, his work can be recognised by his use of colour and glowing highlights. Kinkade was famously quoted as viewing art as "an inspirational tool" and crafters can find their own inspiration in the new Crystal Art sets which would make a distinctive and beautiful piece of art to adorn any wall.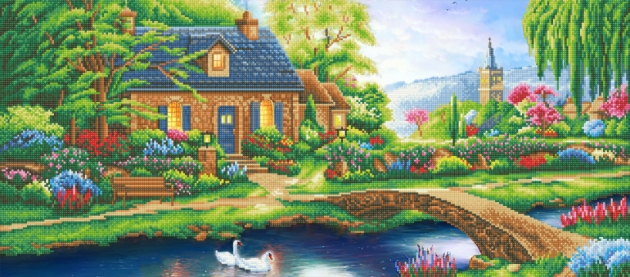 Available in a range of sizes, the Thomas Kinkade collection includes two 30cm x 30cm designs: Friends Cottage and the richly detailed Perfect Red Rose alongside three sublimely calming 40x50 Crystal Art Kits: Quiet Evening, Victorian Light, Pools of Serenity and Italian Café. A larger 40cm x 90cm Panoramic Crystal Art Kit featuring the charming and emotive pastoral: Stoney Creek Cottage is also available at launch for Winter 2020.

As an Artist who believed that "art is forever" the work of Thomas Kinkade has been truly immortalised in these wonderfully imagined Crystal Art kits whose beauty and realism should appeal to all art and craft fans young and old.