Four years ago, Pentel launched in the market a new product that remains, to this day, unique. Hybrid Dual Metallic was unlike any other gel pen, despite the fact gel rollers had been available since the early '90s. What continues to make Hybrid Dual Metallic so original and desirable is its rich, dense, smooth flowing ink that reveals different colours on dark or light paper. When the page is turned to the light the effect is iridescent. Pentel's inspiration for Hybrid Dual Metallic comes from the natural world: think of the wings of a morpho butterfly or the changing colours of the aurora borealis, for example.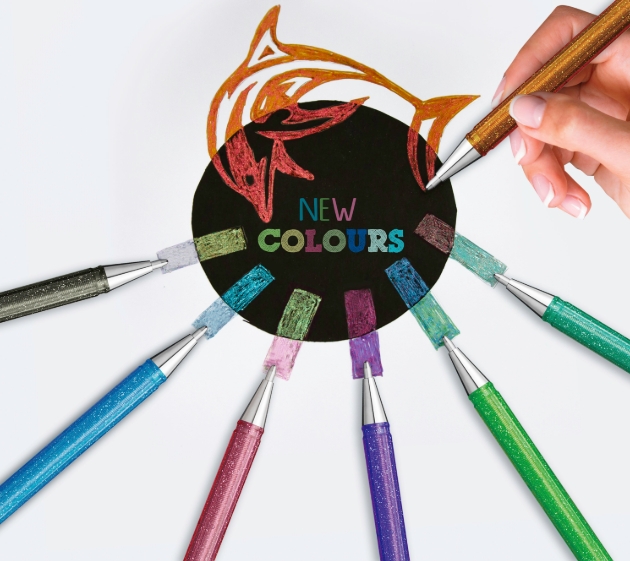 Pentel marketing manager, Wendy Vickery says, "As one of the first manufacturers to bring gel pen technology to the market, Pentel has been adding inspiration ever since – whether it's with our fast-drying, smudge-reducing EnerGel liquid gel pens, which are ideal for right or left-handed writers, or our Hybrid Dual Metallic pens, which have the wow factor aplenty."

The original Hybrid Dual Metallic pens were offered in eight colours, each pen capable of producing two shades. Later, Pentel added four special limited-edition colours to the range, and now the company has launched seven new members to the family, which take this fascinating ink technology to another level.Wendy Vickery continues, "The seven new 'Fantasy' shades are nothing short of spectacular! The colour combinations are simply stunning and we're sure designers, crafters, artists and journaling enthusiasts will love them. They're beautiful to look at and the results on paper are amazing."

The seven mellow shades have two colours of glitter infused in their dye ink to make lines and drawings shine like a hologram. This combination of lighter ink and glitter produces gorgeous new tones suitable for everyday use or for special projects.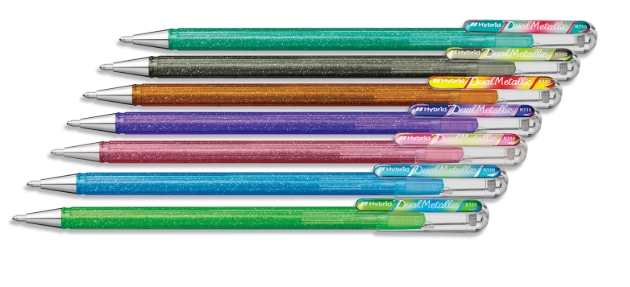 Wendy adds, "The difference in results on dark and light-coloured paper has never been as dramatic or as appealing," adds Wendy Vickery. "Writing with them is sure to bring a big smile to faces."

The seven new colours are available in a carboard wallet and individual pens are also available in a new counter display that also holds the eight original shades.With Christmas only a few weeks away and home-made festive crafts likely to be especially popular Hybrid Dual Metallic pens offer the perfect way to create something entirely original.

Visit www.pentel.co.uk for further information.