Roger Felton, Founder and MD of Differentiate Design (trading as Pop-up Frames) talks to Craft Focus about shaking up the framing market with these practical and affordable options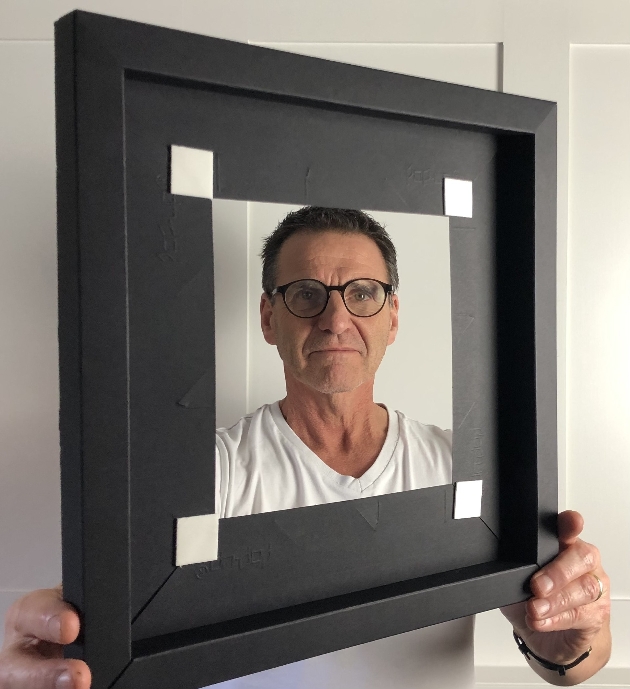 Who founded the company and why? How has the company evolved? What do you specialise in?
Pop-up Frames is the brainchild of myself, an established creative professional with a long career in graphic design, advertising and print production in addition to running my own award-winning creative agency for over 25 years (FeltonWorks - formerly Felton Communication) with around 15 full-time staff and annual turnovers of up to £2m.

Around 2017, my wife was starting on her artist journey which initially included selling sketches at local art fairs. She remarked how frustrating it was to have to spend more than £20 on framing these pieces and therefore having to price over £50 in order to make any money. So we started to think about a cheaper solution, even if only a temporary frame to display her art works. As the idea grew so did the possibilities and our attention turned to affordable and versatile framing for all manner of items. When our three children started University, they realised that students bought posters but couldn't afford to frame them. Ordering photo prints and tiles online was becoming more affordable and more popular but again framing them was too expensive. As part of the development, we have donated frame kits to a local school for their GCSE show, to a local village fete for a children's art competition and a rugby club to frame up all the Minis' end of season certificates. The affordability of framing anything and everything from posters and album covers to 3D stuff like craft and origami spurned the mission – to encourage the world to fill their walls with ALL the things that make them smile – from memory boxes to walls. Not only did we successfully go on to create a design that ticked the affordability, versatility and quality boxes, we also successfully achieved international patents and trademarks on the concept. The product is attracting increasing interest and excitement from the arts and crafts, stationery, paper and online print industries as well as from all the end-users who have tried them.

We're now well on our way to realise a vision to create a disruptive brand to shake-up the framing market and make 'Pop-up Frames' the generic term for paper and affordable framing.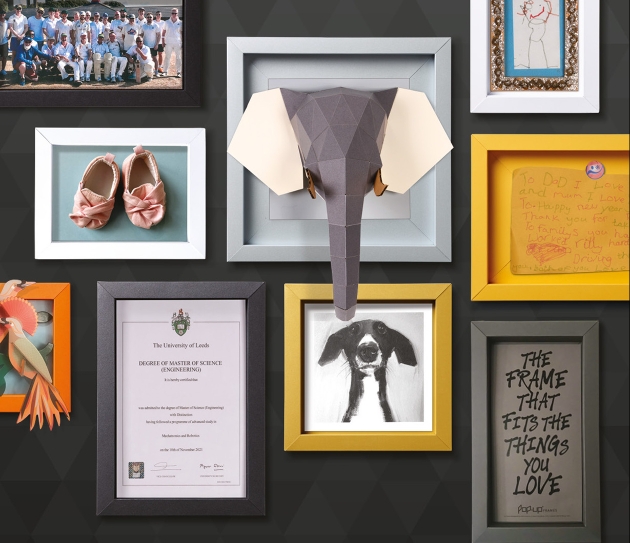 Talk us through the current products you're particularly excited about. Do you have a favourite?
The poster kits are due to launch in the summer, and these will have 28 different sizing options from 32cm up to 92cm (49 different portrait and landscape formats). These will be ideal for posters and will have additional bracing to support heavier artworks. At a RRP of around £8 this will suit students and anyone looking to fill their walls on a budget. There are numerous accessories also in development for the frames including new colours and textures, stick-on moulding effects, printed and recycled plastic frames.

Do your products suit all levels of crafters?
Pop-up Frames are ideal for virtually any 2D or 3D wall art/craft – from fine art and papercraft to fibre and textile crafts. Most artworks look better framed whether hung on your own walls or selling at fairs.

How would you advise a retailer who is interested in stocking your products?
There are advantages for on and offline retailers. Efficient storage and POS displays – for example, 100 small kits can be displayed on 15cm euro hooks per square metre. Also for packing and posting – they can be posted in triangular tubes along with rolled posters and 12 Small Frame kits can be posted for £2.99 (Royal Mail Standard Small Parcel £2.99).

What sets you apart from your competitors?
The international patents show that there's nothing on the market like Pop-up Frames. They're more affordable, more versatile, more convenient and more eco-friendly.

Do you visit any trade shows? Do you plan to visit any soon?
In 2023 Pop-up Frames attended London Stationery Show and are attending Home & Gift and Top Drawer.

What are you looking forward to most over the next year?
Launching the Pop-up Frame Poster Kit and collaborating with retailers to get the concept out there!

What new products can we expect from you in the future?
Economies of scale!


Pop-up Frames
hello@popupframes.co.uk
www.popupframes.co.uk
www.instagram.com/pop_upframes