Sara Davies gives us tips on how to make your business stand out amongst the rest.
She says: In the business world, first impressions count and standing out in the right way can really pay off. There are so many ways to present your business in the best way so it can shine brighter than the rest...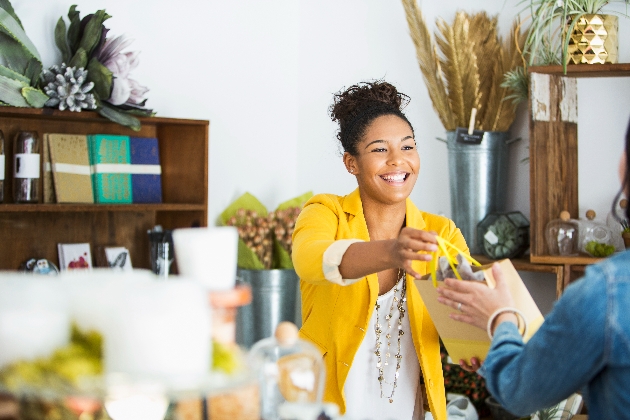 Get creative!
Rolling out the same content and social media posts as every other business is never going to grab anyone's attention. Branding materials, marketing and social media is your opportunity to tell your story and show who you are as a company. You need to really stand out and capture people's interest in what you have to offer. So whether you have a fascinating backstory, a pledge for social responsibility or a colourful and quirky aesthetic – use it! By keeping your content interesting and consistent you won't just come across as intriguing but also reliable and authentic.

The customer comes first
It's an old phrase but it's lasted this long for a reason! Excellent customer service is something that people remember, and unfortunately terrible customer service will be remembered for even longer.

When a potential customer is contemplating which company to buy the same product from, cost and customer service will be top of their decision-making list. So, for companies known for bad customer service, this can have a devastating effect! Make an effort to go above and beyond for your customers, invest in a strong customer services department and help your customers trust your business and know that when they shop with you they will have the best possible experience.

Go your own way
Take a look at your target market, is every business essentially offering the same thing? A super simple way to stand out in a saturated market is to offer something different. Work with your team to come up with something fresh, whether it's an innovative twist on an old classic or something completely unique and brand new! It's also worth keeping your ear to the ground, your customers may already be asking for what they want to see next. Which leads me onto my next point...

Get to know your customers
You can't sell your product if you don't know who you're selling it to! Spending time conducting market research into consumer behaviour and trends is vital. The businesses you see succeeding aren't doing so by accident, they know their target consumer inside out and back to front! Find out as much as you can about your ideal customer; where they shop, what their budget is, what they're looking for right now and what they might want in the future. The answers to these questions will help you to market your products so that they're seen by the right people.

Be transparent
Customers can smell a lie from a mile off. Show respect by offering honesty and transparency. Keeping your customers, suppliers and trade customers updated and informed of all changes and updates, the good, the bad and the ugly will pay off. Whether a product is delayed at port, or you made an honest mistake - be upfront and explain the situation. Everyone appreciates honesty and your business will appear more authentic and real. Being different is good for your business! Take some time this month to review your business, your customers and find ways to really stand out from the crowd.

Sara Davies MBE is founder of Crafter's Companion.