With sustainability and social responsibility at the core of her modern embroidery business, Sammy Bishop, Owner & Founder of Paraffle, is proudly flying the flag for Scotland! The company is based in a studio in Edinburgh – it's a building run by an arts charity, full of artists, small businesses and charities – a fantastic environment to be located in. The company started in 2017, as a small Etsy shop, before expanding. Sammy tells us more...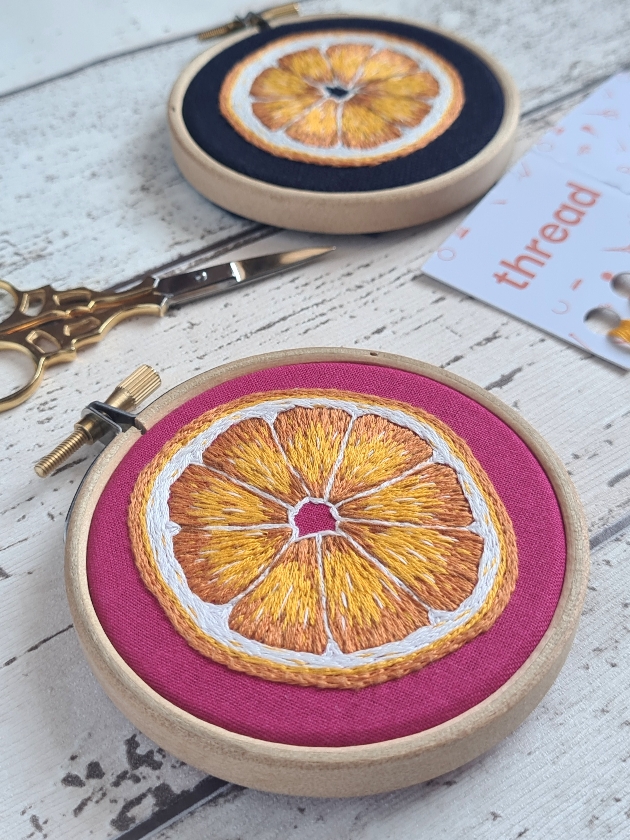 What's your background and why did you start the company?
My mum taught me to sew and use a sewing machine when I was young – but my embroidery is all self-taught. I started the business while I was doing my PhD in Edinburgh, and I had decided that the academic world wasn't for me. I made my first piece of embroidery for my mum as a Christmas present when I wanted to give her a meaningful gift (on a student's budget!) – embroidery quickly became a hobby that helped me cope with the stress of university. I came to realise that I loved designing my own pieces – and that there was a gap in the market for fresh, modern kits that people would be proud to display once they were finished. I put together my first few designs, started a small online shop and Instagram page, and went from there.

How has the company evolved?
I completed my PHD just a couple of months before lockdown, so I was well placed to scale the business according to the huge increase in demand. In the midst of processing hundreds of orders a day, I registered for VAT, became an employer, enlisted the services of a fulfilment company, worked on improving my internal processes, started selling on TV, and made sure I was taking my environmental and social responsibilities seriously. My partner Ali then joined the business, he has 9 years' experience in project management and lean process efficiency, which has been incredibly valuable.As the company has grown, I've enjoyed producing new designs and innovative new ranges and I've done this keeping customer reviews and feedback in mind. The input from the thousands of reviews I've received has been put to good use. I also have a wonderful team of people in the company who are constantly opening up exciting new directions and introducing innovative ideas – this combination of people has helped the business to improve in a myriad of ways!

What do you specialise in?
All things embroidery. Paraffle actually means 'embroidery' or 'an ostentatious display' in Scots! My designs are fresh, modern, and inspired by nature. I use paisley patterns a lot – I like how the swirling shapes of the paisley fit so well with natural shapes. I love strong, contrasting colours, too. I often use navy blue as a background colour in designs, as a way to highlight gorgeous, bright threads.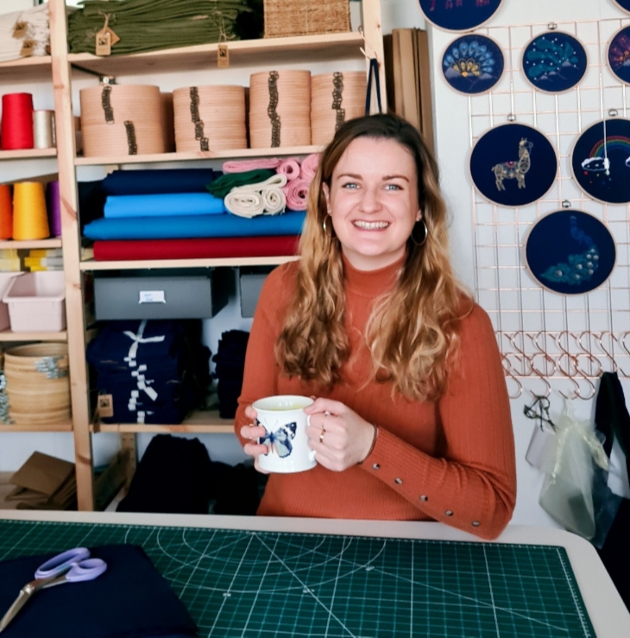 Talk us through the current kits you're particularly excited about. Do you have a favourite?
The kits that I'm most excited about are my new Customise Kits. These are my first foray into embroidery that's really functional as well as decorative. I think encouraging people to upcycle and customise old clothes and accessories is a great way to support more sustainable habits, so I'm really proud of them. The kits are suitable for beginners and also give fresh inspiration to people who have already tried embroidery and want to expand their skills! My favourite of these is the Tropical Customise Kit – it has mini versions of my Flamingo, Pineapple, and Sloth designs, and has been the perfect thing to brighten up my old denim jacket.

Do your products suit all levels of crafters?
Yes! It's important to me that even people who think they're 'not crafty' would be able to pick up one of my kits and have a good go at it. I think it gives people a real sense of achievement when they create or craft something, and I want to encourage this whenever possible.

Craft has boomed over the last year! Have you noticed any new trends?
I've definitely noticed a trend towards sustainability and customers being keener to trace where products come from and who produced them. I also think that many crafters are looking for projects that are functional, as well as decorative – an opportunity to create or customise things they can wear, such as bags or jackets (especially now we're allowed out and about a little more!).

How often do you launch new ranges?
I release a new product every month – these are often new designs for my embroidery hoop, tote, banner and cushion kits. Less frequently, I'll release a new range (such as my Customise Kits), and will frequently add to these once the range is released.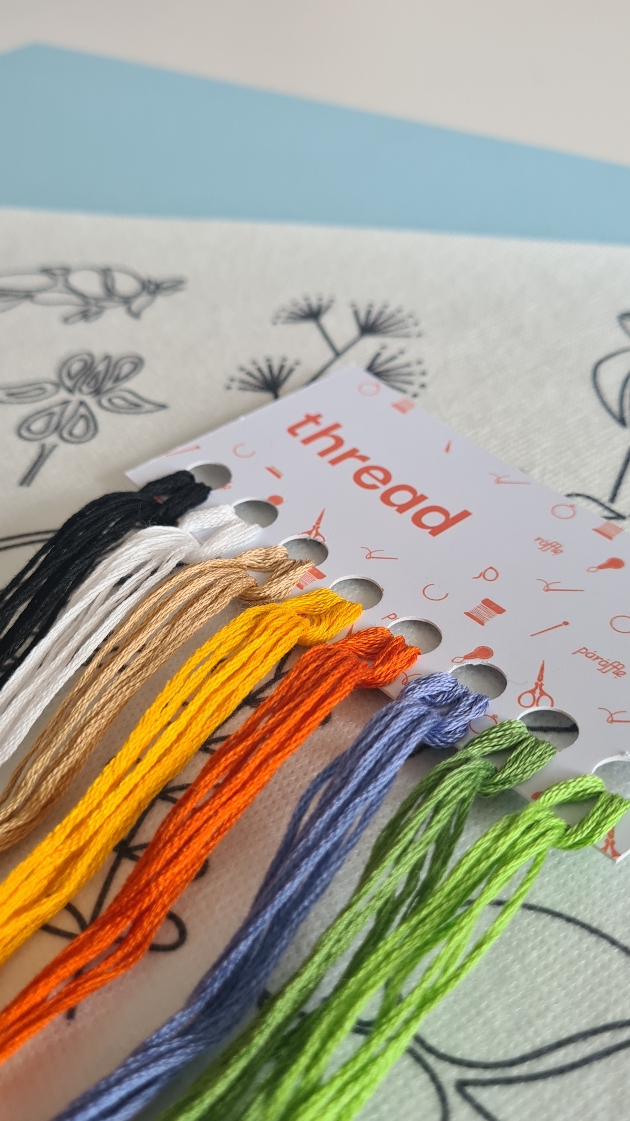 How would you advise a retailer who is interested in stocking your products?
We'd love to hear from you – the products in our wholesale range were designed with retailers in mind; from shelf space to margins, gorgeous quality packaging and repeat purchase potential. Drop us an email for more details.

What sets you apart from your competitors?
I've done my best to have Paraffle leading the charge in making craft kits more sustainable and socially responsible. We're a carbon negative business and almost all of our packaging is recycled. We'll soon be switching our fabric supplier to a women's cooperative in India as customers become increasingly interested in transparent and ethical supply chains and we'll therfore be able to name the individuals who produce our cotton.

At least 10 per cent of our profits are donated to charity. Some of my kits were created with charities in mind, and I've experimented with other campaigns - for example, last Black Friday weekend: instead of having a 25 per cent sale, we donated 25 per cent of all sales that weekend to charity.There's lots more we're learning about and working on improving to set us apart – it really is a never-ending journey!

Do you visit any trade shows? Do you plan to visit any soon?
We have no trade shows in the diary at the moment but will be booking them in, in the future!

How did business cope during the Covid-19 pandemic and what are your plans going forward?
The business really took off during the Covid-19 pandemic, as so many people looked for new activities and skills to learn. My main consideration during this time was keeping up with demand (alongside the supply chain disruption!), and making sure that the business growth was stable and sustainable.

Going forward, I plan to keep driving forward two things:
1)Making the business more sustainable and socially responsible. I think so many things can be overlooked in the craft world – such as where our cotton comes from – and I want to keep upgrading my supply chain to the highest standards I can.
2)Showing people the joy and benefits of craft – how it's easy for even 'un-crafty' people to learn how to do it, and that the end result doesn't have to be perfect! I'm developing ranges to teach different embroidery skills that look difficult, but are totally achievable!

What new products can we expect from you in the future?
Lots! I'm expanding the range of Customise Kits, and developing some of my other kits for retail. At the time of writing, our Christmas 2021 collection is receiving its finishing touches!

Paraffle
+44 (0)7468 535 475
info@paraffle-embroidery.com
www.paraffle-embroidery.com