Mr Yoshio Okada, the founder of Olfa Corporation, invented the world's first snap-off blade cutter in 1956 as a solution to other knives constantly losing their edge and becoming dull. He came up with the idea of a snap blade from breaking off segments of a chocolate bar and analysing sharp edges of broken glass. He realised that if a single segmented blade could be made to snap at given points, you'd always have a sharp edge to hand.
Brian Price, national accounts manager at OLFA UK talks to Craft Focus about their renowned cutting tools, proudly made in Japan. Here's what he had to say...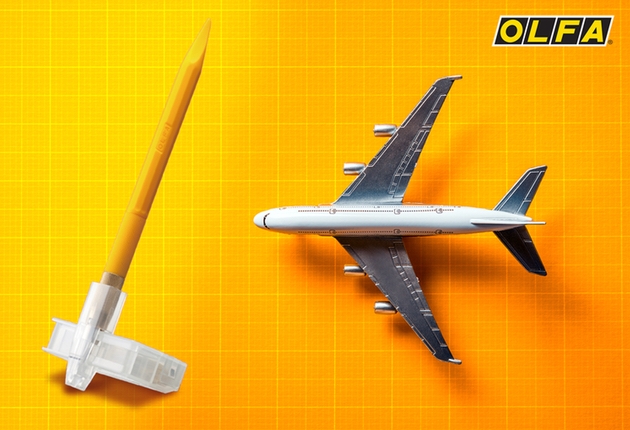 Where are you now located?
We currently distribute Olfa in the UK and Ireland from Mill Hill, north west London, but we will shortly move to a purpose-built automated distribution centre in Biggleswade, Bedfordshire.

Where does the name Olfa come from?
The name Olfa comes from two Japanese words, which, when translated, mean 'to break a blade'. The Olfa parallelogram logo is based on the shape of a snap-off blade. Most Olfa tools are 'egg yolk yellow', just like the logo, making them easy to identify in a toolbox or amongst desktop clutter.

Where in the world do your products get made?
All Olfa products are 100 per cent designed, developed and manufactured in Japan.

How has the company evolved over the years?
Following the invention of the snap-off cutter, Olfa invented the world's first rotary cutter in 1979, which revolutionised the way people cut fabric. In the last 10 years, the product development team at Olfa have brought dozens of original and highly functional tools to market. However, a majority were not readily available to crafters in the UK and Ireland until very recently. All the while, much of Olfa's focus has been on creating blades of unrivalled precision and longevity.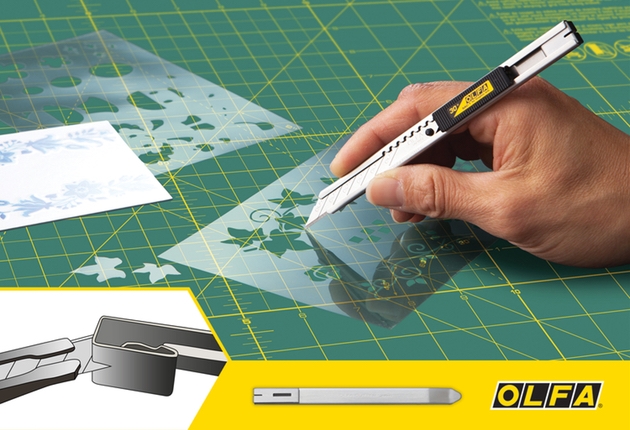 What company values do you hold?
To promote products of a high calibre that encourage re-use over disposal. To optimise logistics and reduce our carbon footprint. To supply tools that help to improve the general quality of craft whilst also making tasks more enjoyable.

Tell us about your product range. What do you specialise in?
Olfa manufacture some of the best cutting tools in the world. The range includes rotary cutters, art knives, scissors, cutting mats and specialist tools.

What's your bestselling range of products?
The rotary cutters and art knives sell very well, but the snap-off cutter, invented by Olfa in 1956, has proven, internationally, to be the best-selling cutting tool to date. It's the most versatile of all, suitable for many applications, and is available in a range of handles and sizes.

How would you advise a retailer who is interested in stocking your products?
I'd advise that they speak to their customers who are serious about crafting, most of whom will already be familiar with some of the Olfa products and their quality. They'll probably be able to secure pre-orders before we even ship the stock.
What sets you apart from your competitors?
Superior blade technology, innovative tool design and great attention to quality control make for unparalleled reliability.

Do you visit any trade shows?
We plan to strengthen our presence across trade shows, starting this year in September with the industry's most important exhibition, CHSI Stiches at the NEC in Birmingham.

How did business cope during the Covid-19 pandemic and what are your plans going forward?
Business has proved to be a challenge for us during the pandemic. Like many other businesses, we've had to adapt to new ways of working. The plans made to create new trading partnerships with wholesalers and retailers have been taking longer to achieve. However, now that retailers are reopening to a new normal, they're starting to gain momentum. If you'd like to join us on this exciting journey, please get in touch.

What new products can we expect from you in the future?
Olfa like to keep a lid on what to expect, as it's all top-secret until the product is perfect. Undoubtedly though, you can expect a series of new products from Olfa in the coming months and further into the future.

OLFA UK
Brian Price
National accounts manager
+44 (0)7432 661 039
+44 (0)20 8204 1422
brian.price@olfauk.com
www.olfauk.com