How has the company evolved? How are you expanding worldwide?
Over the last 48 years we've expanded our range covering a wide array of arts and craft, pre-school, nursery, outdoor, STEM and roleplay products. We also design, develop and manufacture our entire range at our 20,000m2 facility, and our products are available worldwide in more than 75 countries.

What company values do you hold?
Our core values are based on three principles that all our products are fun, safe and contribute towards a child's development. We believe that as a company, we have an obligation to our customers to ensure our products are not only safe but don't negatively impact the environment. Our purpose-built laboratory at our facility tests all our products as they're produced to ensure we meet all legal requirements for child safety. As of 2021, we'll be 100 per cent carbon neutral ensuring the business and manufacturing processes are carbon neutral by a combination of lowered carbon output and by the purchasing and management of company owned forestry.

What do you specialise in?
We specialise in a wide range of products covering arts and craft, pre-school, nursery, outdoor, STEM, roleplay, and more.

Talk us through the current collections you're particularly excited about.
We have an excellent range of casting and painting products that offer a fantastic crafting experience, our range of finger-paints offers a wide range different colours and effects including glitter paint, we also have an excellent range of pre-school crafting kits offering fantastic products for one- to four-year-olds allowing them to safely draw, colour and craft such as our award-winning Crayon Beads product. Finally, we have a great range of hobby products allowing the end user to make their own soaps, cast candles, learn to embroider, and many more activities.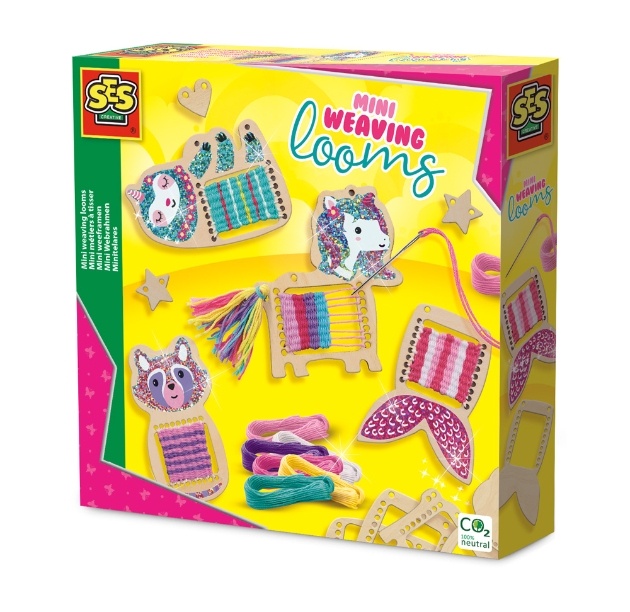 What's your bestselling product?
Our best-selling product is our Casting and Painting – Unicorns product line.

How often do you launch new products?
We launch a new range annually and the majority of our new products launch during Q1 of the year.

How would you advise a retailer who is interested in stocking your products?
If a retailer is interested in stocking our products, they can get in contact with me directly, and I'd be happy to get our sales team to arrange an appointment to get them set up. Our knowledgeable team can advise on complementary ranges and products.

What sets you apart from your competitors?
SES Creative offers a wide range of benefits that set us apart from our competitors. We offer complete out of the box crafting solutions with everything you need to complete the activity. From a product perspective all our paint and dough products are gluten free; all our plastic is PVC free, and we have a range of paint and modelling dough products that are safe for aged one plus. We also make all our products ourselves ensuring our products adhere to the highest safety requirements. By being in control of production and avoiding long lead times we have excellent stock availability. Lastly, we're passionate about ensuring that retailers have a wide choice of products to offer their customers, and that's why we ensure that our range is not only one of the most comprehensive in the industry, but that we continuously add new products and ranges to offer something new and reflect current trends.

Do you visit any trade shows?
We attend all the major trade shows such as London Toy Fair, Autumn Fair, Spring Fair and Nuremberg Toy Fair.

How did business cope during the Covid-19 pandemic and what are your plans going forward?
Our business whilst adapting to the demands of Covid-19 coped well due to the increased demand for arts and craft products that was witnessed across the industry, and fortunately we were able to scale up our production to meet this increased demand. We invested heavily in B2B business solutions to allow our sales team to communicate with our customers and we are pleased to offer our in-house showroom for bookings for video presentations. Going forward to meet the increased demand from pre-school and under sixes, we've increased the products available for this age range as we want to ensure that this age category has a wide choice of excellent products to support their introduction to crafting.

What new products can we expect from you in the future?
With more than 100 new items in our 2021 range we have a wide array of new product to choose from, however we're particularly excited to be offering an expanded range of textile painting products such as tie dye and textile markers, we're also expanding our range of weaving loom sets for the younger user, new jewellery making kits, a range of marble art casting and soap making products, and a brand-new line of roleplaying sets called Petits Pretenders.

+44 (0)1304 746 030
dcollett@ses-creative.co.uk or sales@ses-creative.co.uk
www.ses-creative.com