Keri Ackling CEO of Snow Windows discusses how the company began, their important charity work and how this year more than ever, you should celebrate Christmas and decorate those windows in style. Snow Windows is currently supporting Home-Start - a local community network of trained volunteers and expert support helping families with young children through their challenging times. Snow Windows were introduced to Home Start when Kirstie Allsopp asked Tom to design a Christmas card for them in 2019.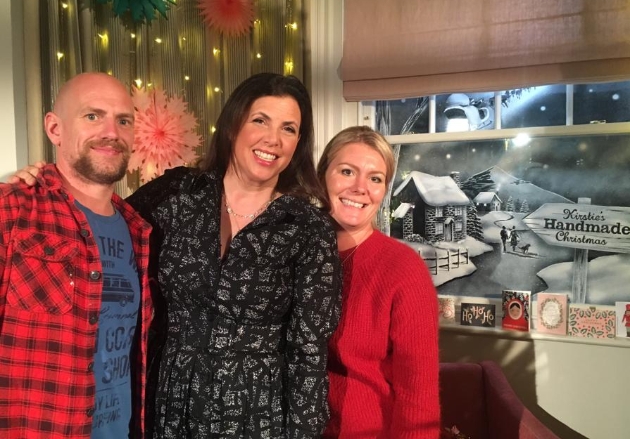 Tell us a bit about Snow Windows.
Snow Windows was created by Tom Baker (my fiancé) and myself. It all began back in 2008 when Tom created a scene on our back window using a can of snow spray and a dry paint brush one Christmas night to surprise me! The result was amazing! Then year after year friends would pop over to see what he had created on the window the following years!
In 2015 we returned to the UK after moving our young family out to Australia for a couple of years! We decided to start Snow Windows as a business. We had no idea that the demand would be so high. Tom's creations were so popular and news spread far and wide – even the Empire State Building enquired about getting one! Tom found it very difficult to keep up with demand so designed a sticker range for the following year – they looked just like his Snow Windows. Following years, he designed a DIY stencil set so people could create their own snow windows – they were rigorously tested on our seven and nine year-olds as we felt if they could use the stencils successfully anyone could, they had so much and have taken the stencils into school to show their teachers and friends.

Who uses your products?
The Christmas stencil set has been so popular. A it's reusable, there's no limited to the size of display you can create, so lots of independent shops stock our stencils to sell to their clients but also use a set of stencils to decorate their own shop front windows. The stencils are also a great family activity and very easy to use and remove so children love to use them. Basingstoke Town Centre are using our bespoke size stickers to decorate 59 shops in the town centre – giving a really magical Christmas feel.

How had the company evolved over the years?
The company has evolved massively since it started, we were a small local business decorating local shops and homes at first. The following year we were booked by Jamie Oliver for his home and set design; Chris Moyles; and we were asked to appear on Kirstie's Handmade Christmas by Kirstie Allsopp who asked for her home to be created straight after our appearance. Last year we decorated Harvey Nichols windows which had always been a dream of mine.The media loved the results and enjoyed writing positive happy visual stories during the Christmas months. Last year, we appeared on the ITV evening news in the UK and other news stations around the world as far as Australia and New Zealand.

Your window effects can be used for Halloween, what other themes have you experimented with?
Because of the bespoke element of Tom's hand designed windows, we've been able to use the effects for so many things, product launches, baby announcements, proposals, weddings, parties! We also have the Halloween stencil range which has been very popular this year.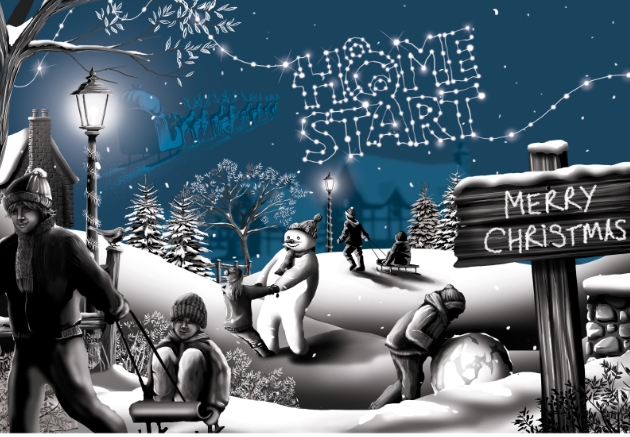 Talk us through your current collections. What are you most excited about this year?
We currently have the Christmas Stencil set available and we're so excited to add an expansion pack this year that work with the original range. The expansion pack has been created with our client's requests in mind, there will be an addition train stencil and a church stencil. We're also launching a brand-new Christmas reusable window sticker this year, we feel it's a great reflection of such a tough year but how we've all as a nation focused positively with hope.

How important will window displays be this year?
We were very encouraged when we watched the Christmasworld web seminar at the end of July. As transcribed from the seminar: "No matter what happens, Christmas will take place and certainly provide a traditional place of retreat", Julia Uherek, Group Show Director Consumer Goods, Messe Frankfurt, emphasises, bringing into focus the positive perspectives for all manufacturers and retailers who are concerned with Christmas-related products and services.Christmasworld exhibitor Helmut Schmidt echoes her words: "Christmas is celebrated within the family. Nothing will change in that respect. Christmas has survived a number of crises. This year, however, with the pandemic and restricted travel possibilities, we have a situation that's never been experienced before. I'm sure though that the resurgent trend towards cocooning will give our sector a push. For example, I anticipate that Germans will emulate Americans and start decorating their houses much earlier this year, both outside and in. This will certainly change." In particular, there will be a greater focus on outdoor decorations this year – all were agreed about this."I also think that next Christmas will be celebrated in a more creative, intimate and personal way. This could include, for example, homemade decorations, old recycled decorations, or a Christmas tree made from clay. It's our task to give retailers and end consumers inspiration for atmospheric decorations that fit perfectly with the spirit of today. There's no need for everything to be completely new, just newly combined and complemented with small details. Just as with cooking, when fine spices make all the difference", as Pascal Koeleman, Co-founder, 2dezign, validates.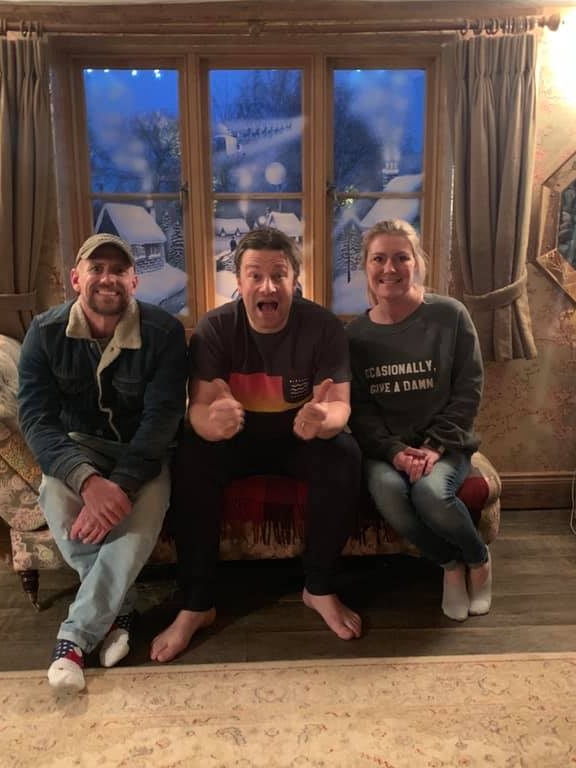 You work closely with Home Start UK. How did this relationship begin?
We were introduced to Home Start when Kirstie Allsopp asked Tom to design a Christmas card for them in 2019. As parents with a young family, the charity really amazed us on many levels. The support they provide for young families is vital.

How are you currently supporting the charity?
We were asked during the first weeks of lockdown if we would appear with Kirstie on YouTube to be a part of Home Starts National Emergency appeal. We of course jumped at the chance. Sadly, Home Start have been very badly affected financially with Covid and lockdown – with less people donating due to job uncertainty and redundancies. After we heard this news, we said that we'd donate £1 from every one of our Christmas stencil sales this festive season.

How would you advise a retailer who is interested in stocking your products?
Anyone interested in stocking our products should contact us via our email or phone. We'll always be happy to answer any questions. Any retailer ordering our stencils will be given an free set to decorate their own shop windows, we feel this gives the retailer a real understanding of the product and makes their windows stand out from the rest of the shops giving the shop a real talking point in their local community.

What can we look forward to in the future?
We created some set designs in January for filming a major Crafting Christmas themed show (hint hint, I can say no more), we're working on some special projects with Home Start that will hopefully be for all to see, we also already have lots of interest for Tom to appear on many popular TV shows this festive season – so watch this space!
Tom's also working on tutorials for our YouTube page teaching all ages and skills how to create things like trees and lampposts.

Home-Start UK during Covid-19
By Anita Frith head of corporate & fundraising development
Home-Start is a local community network of trained volunteers and expert support helping families with young children through their challenging times. We have been helping families in communities across the UK for almost 50 years. We're seeing social distancing and isolation placing enormous strain on families. Families with particular pressures such as poor mental health, illness and low wages are being hit hard by the crisis. Home-Starts across the country have moved fast to provide support for these and other families affected. We've moved essential support services online to stay connected with families. Our network of 1,000 locally based staff and 13,000 volunteers is playing an important part in local community response efforts across the UK – delivering essential supplies and linking families into local resources such as Foodbanks, meals, and public health services.

The next few months are going to change our communities for years to come. As we emerge from the current crisis, Home-Start volunteers will play a key part in helping to rebuild communities affected by the pandemic, supporting anxious parents who are going out and meeting other new parents for the first time. They will be helping them to develop the friendships and connections again that they will need as their children grow up. At a time when so many families are feeling alone, the power of human contact and connection; the compassionate, confidential support that Home-Start volunteers offer is essential.

We're so grateful for the incredible support from Tom and Keri from Snow Windows. Without support like theirs, we couldn't continue our vital work transforming the lives of over 27,000 families and 56,000 children across the UK. Unfortunately, like many other charities, one of our biggest challenges will be securing the income we need to continue this vital work. Local Home-Starts are on the frontline of support, yet are already facing substantial financial difficulties. We need help.

Please help us make a difference by donating whatever you can. Every penny helps.
https://www.home-start.org.uk/donate/help-keep-families-connected/25