Business partners Kirsten Burke & Jill Hembling have been running The Modern Calligraphy Co. in for the past 25 years. Lifelong friends, they made the decision to combine Kirsten's passion and talent for modern calligraphy with Jills head for business and organisation. In the '90s, Kirsten was regarded as one of the leading contemporary calligraphers in the country, known for her modern artistic style she was asked to lecture around the country and commissioned by national galleries and museums such as Shakespeare's Globe, Bankside. The company's commercial focus was on transferring her lettering style onto greeting cards and wedding stationery and the company's most successful range, FC2 still retails in more than 540 stores nationwide and with over a million cards sold.

In the last decade, calligraphy has become one of the most popular crafts in the UK, with everyone wanting to learn it. The Modern calligraphy company now has 70 calligraphers working for them nationally on high profile luxury events and 15 ambassadors running workshops for them nationwide from Edinburgh to Brighton. Alongside this, Kirsten was commissioned to create her best-selling Secrets of Calligraphy books and developed luxury nib and brush calligraphy kits so that people could learn from the comfort of their own home. According to Hobbycraft, over lockdown sales of calligraphy kits and materials increased by a whopping 400 per cent.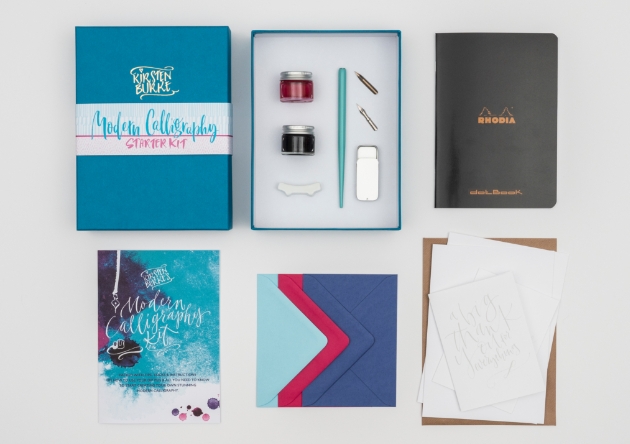 What challenges have you overcome during this time?
There have been many along the way! When The Modern Calligraphy Co. began, there was a lot of scorn about modern calligraphy from the traditional calligraphy community, but those attitudes have slowly changed to recognise it's unique accessibility and its exciting dynamics. The market itself has changed rapidly, with the huge boom in crafting hobbies, and existence of social media, the methods for reaching our audience have utterly transformed this ancient craft. We've created heaps of content online and grown our brand via our YouTube channel, and since lockdown, we've begun live streaming our workshops, which has been a steep technological learning curve for us, but one that has been very successful already. When all eventing was cancelled due to lockdown, the amazing sales of our books and kits for all those people stuck at home, helped us through these last few months and we are expecting fantastic sales as the nights draw in again and in the run up to Christmas!

What do you specialise in?
Our aim at The Modern Calligraphy Co. is to create a national standard in the UK for teaching modern calligraphy workshops a real first for the industry, which we've achieved in the last two years. We specialise in making modern calligraphy fun and accessible for everyone, no matter their skill level. We really wanted to share our passion for this beautiful style of creativity and let people know that they can give it a try too! It's been such a pleasure to be able to teach so many fabulous students all over the country. Through our workshops, kits, books, and social media we really believe that there is a way for anyone and everyone to get involved in modern calligraphy.

Talk us through your current collections.
We have a variety of kits and we're really passionate about high quality functional tools that are also beautiful and feel great to hold. We have a varied price range so that there's something for everyone's budget. We have a Luxury Calligraphy Kit (RRP £34.99) which contains everything a budding calligrapher needs including original templates designed by Kirsten in a gorgeous gift box. We also have our bestselling Essentials Modern Calligraphy Kit (RRP £13.99), with a penholder, three nibs, ink and a lesson plan to get you going. For brush calligraphy we have our Kirsten Burke Dual Tip Brush Pen, unique in the UK (RRP £7.50) created for us by the experts at Sailor in Japan. All our kits work as the perfect companions for our range of books too, so we really do cover most things!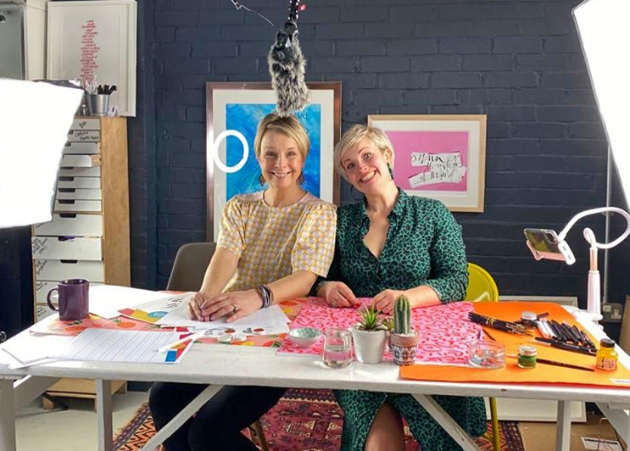 What's your bestselling product?
Our Essential Modern Calligraphy Kit online, is an Amazon Bestseller, and it also retails in Waterstones and Anthropologie, so we sell a lot of them! It pairs perfectly with our book The Secrets of Modern Calligraphy, so we sell that bundle from our website most often. What styles never go out of fashion and why do you think that is?Quality learning resources and materials offering affordable accessibility.How often do you launch new products?We've launched a new book every year for the last five years, so that's been a lot of work! We add new products only when we feel there's a gap to fill or we fall hopelessly in love with something, like we did with our coloured inks! At the moment we're finalising two new luxury kits, so watch this space!

How would you advise a retailer who is interested in stocking your products?
Contact us directly to ask our advice on the best combination to stock and we will also supply a range of POS material to encourage sales. We could also host an event in store, personalising gifts for customers or run a pop-up workshop, so that people can 'have a go' (socially distanced and safe of course!).

What sets you apart from your competitors?
When we first set up the company, we really didn't have any competition which in itself was hard because no one knew what modern calligraphy was! These days there's a lot of modern calligraphers, or modern calligraphy items for sale, but what sets us apart is our wealth of experience and the strength of our name. Kirsten Burke is the leading modern calligrapher in the UK, and her name is synonymous with high quality beautiful calligraphy. The Modern Calligraphy Co. is the only nationwide calligraphy workshop – you will be taught the same lesson in Leeds, London and at out HQ in Chichester – with a lesson plan and worksheet designed by Kirsten using her decades of experience and knowledge, so that when our customers buy/book with us they know they're getting a high quality product.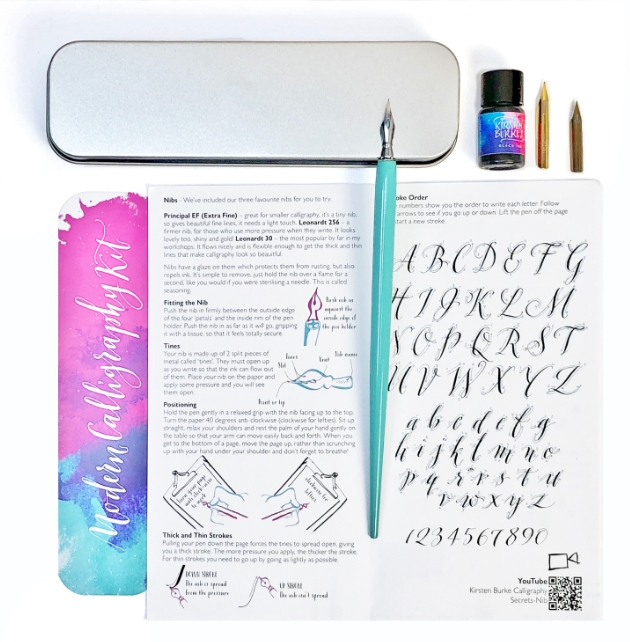 How did business cope during the Covid-19 pandemic and what are your plans going forward?
It was pretty frightening for us to begin with, since what we do is very people focussed. Our workshops all had to be postponed, as well as all our luxury eventing work where our team of calligraphers create custom packaging in store for leading brands. We had to think fast as we knew our customers were trapped inside and still wanted to engage with us. We created lots of online content, both free and paid for, as well as lots of posts on Instagram and YouTube. Luckily Jill lives right next door to our HQ so she was able to still go in and fulfil our online shop orders, which of course went through the roof!

What new products can we expect from you in the future?
Our Luxury Modern Calligraphy Kit has been hugely successful, and we're currently finalising a Luxury Brush Calligraphy Kit so that people who are interested in brush can get the same kind of bundle, with beautiful stationery, templates and a lesson plan and we've created a combined calligraphy kit specifically aimed at children which has proved very popular through lockdown for parents to encourage their children to improve their handwriting.

For further information, call +44 (0)1243 512 845, email info@kirstenburke.co.uk or visit The Modern Calligraphy Co.