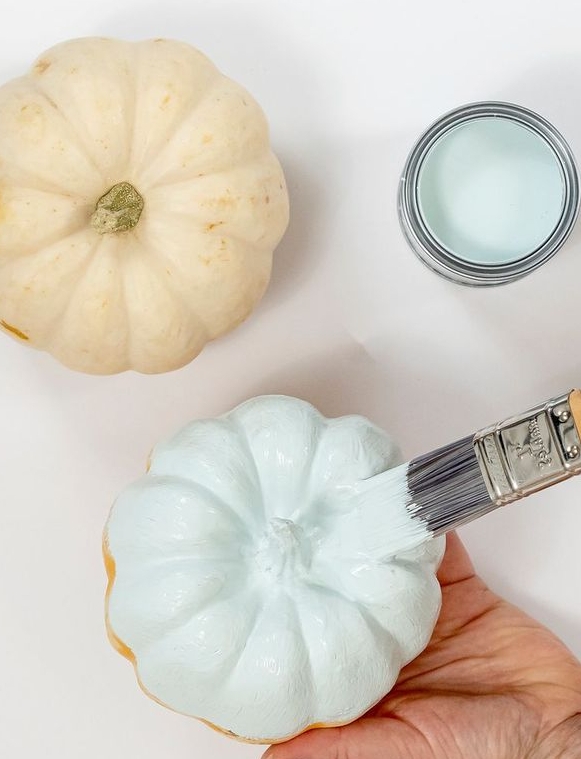 How:
1. Taking a cloth and some warm water, wash your pumpkins thoroughly to remove any dirt or dust which could affect applying your paint.

Allow your pumpkins to fully dry before moving onto the next step. Using a can of Rust-Oleum Chalky Finish Furniture Paint, paint half or your pumpkin. Rust-Oleum Chalky Finish Furniture Paint is perfect for small craft projects, as this water-based paint sticks to almost any surface, has virtually no odour and comes in 34 shades! Place your pumpkin to one side while it dries.

Place your next pumpkin on a piece of newspaper in a well-ventilated area and spray half with Rust-Oleum Chalky Finish Spray Paint, lightly misting the bottom half to create an ombre effect. Leave this to dry.
2. Next, add some sparkle to your pumpkins with Rust-Oleum Glitter Paint. Simply apply the glitter glaze over any pre-painted surface to provide instant full coverage with megawatt sparkle. We added a little glitter frosting to ours, but you could add glitter polka dots, stripes or paint the whole pumpkin!

With Halloween almost upon us, forget about the carving knife this year and have some wicked fun with paint instead for what's bound to be your spookiest success, yet.

For further information about products, please visit www.makeityours.co.uk