Search Press and David & Charles have teamed up to create Bookmarked, a free-to-join website that offers inspiration and creative insights to art and craft enthusiasts the world over.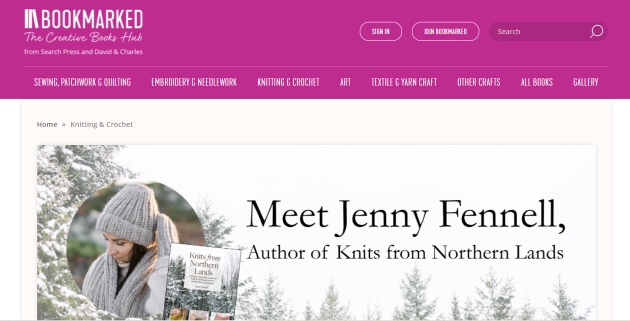 Bookmarked has been developed by these two award-winning publishers to connect the global art and craft community with brilliant authors and their amazing books. The site features articles, reviews and interviews from hundreds of authors as well as an exciting range of extra features and exclusive content including:
· Show and tell – where members can share their projects with the community
· Valuable free downloads including sewing pattern templates and painting outlines
· New free projects – exclusive to members
· Video demonstrations
· Money-saving offers
· The very latest news, views and events from the finest art and craft authors!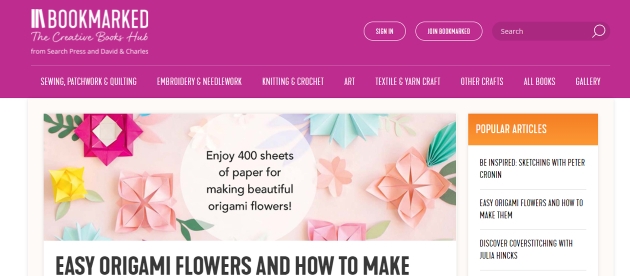 Registration is simple and free of charge and new members will gain immediate and unrestricted access to all of the exciting content the website offers. This is a unique platform for art and craft lovers to join an international community of like-minded people, and to share their creative passions.

Martin de la Bedoyere, Managing Director of Search Press says:
"Bookmarked is creating an online community to share art and craft projects inspired by our books. It will add value to buying our books through additional content and allow readers to exclusively connect with our authors. Members will be able to share the projects they have made from our books on the site and inspire others to do the same."
James Woollam, Managing Director of David & Charles says:
"We are delighted to be partnering with Search Press on this project. It's important for our readers to be able to connect directly with our authors and other like-minded people in the global crafting community. Bookmarked will enable them to do just that. By working with Search Press, we are bringing the world's leading art and craft books and their authors together in one place for members."

Visit: https://www.bookmarkedhub.com/