Search Press wants to help you inspire your customers and get them spending in your shop so for the entire month of august every participating retailer will receive 60 per cent discount on all books! Everyone who signs up is encouraged, with the help of resources and materials provided by Search Press, to host a 20 per cent off month-long SALE to draw customers in and compete against online retailers.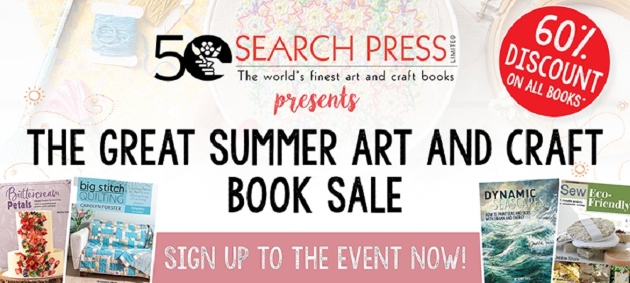 Why sign up?
This exclusive offer from Search Press includes: a flat 60 per cent discount* on all books during August 2021 (minimum order just £500 RRP)!

Hold your own instore book event using Search Press' fabulous marketing materials including peelable discount stickers and free project cards to hand out to customers.

The company is also hosting a prize draw where customers who have bought a book from your shop have the chance to win a £100 gift voucher to use on the Search Press website. To enter all they have to do is share their makes on social media using the hashtag #SearchPressSummerSale and tag @searchpress, or email marketing@searchpress.com . They must state which shop they bought the book from. The shop that the winner has bought the book from will also win £100 worth of Search Press Books. Competition cards will be provided.

You can order your stock for the event from Monday 26th July - Tuesday 31st August. Seacrh Press will email you the exclusive code when you sign up!

SIGN UP NOW!
Email marketing@searchpress.com with your shop name, address and contact telephone number, with the reference 'Summer Sale 21'.
Terms and conditions:
*To qualify for your flat 60 per cent discount you must sign up to join the event. Discount applies to all books on the Search Press website, excluding software. Minimum order of £500 rpp. Discount applies to participating shops only. Offer is available until 31st August, 2021. Please note this special discount will replace your usual terms and cannot be used in conjunction with any other offers.This offer excludes direct dispatch accounts. Participating shops will receive their marketing packs before 1st August, 2021. Please allow 15 working days for delivery.