---
Bothy Threads Ltd (View profile)
Unit 2b, Lakeland Business Park, Cockermouth, CA13 0QT
Tel: 01900 828844
Fax: 01900 828844
Email:
info@bothythreads.com
Web:
www.bothythreads.com


Bothy Threads has a range of modern cross stitch designs from over 20 artists, including:
- Wrendale Designs
- Derwentwater Designs
- Santoro's Gorjuss
- Margaret Sherry's characters
- Amanda Loverseed's Cut Thru' designs
- Moira Blackburn's traditional samplers
and Kim Anderson's Love series.
In addition, we have more traditional designs from L S Lowry & William Morris
We also distribute John James needles and Zweigart fabric.
---
Checker Distributors (View profile)
400 W Dussel Dr Ste B, Maumee, Oh 43537 United States
Tel: +41989 33636
Email:
iinternational@checkerdist.com
Web:
www.checkerdist.com




Offering 3 Business Days Shipping from the USA to EU | VAT FREE
Checker Distributors offers over 140,000 products and is the world's leading supplier of quilting and sewing products. The independent shop owner is our target customer. Checker is a true one-stop shopping. Our website has tools to check stock availability, top selling, the status of backorders, review old invoices, and more. We even offer online chat and our international customer service team always available by email.
Our top selling brands are the 'must have' notions and fabrics that quilters use. We have over 1,200 vendors including very popular brands as OmniGrid, Olfa, Gypsy Quilter, and Clover notions; Hobbs and Bosal batting; Aurifil and Mettler thread; Benartex, Robert Kaufman, Wilmington Prints, and Michael Miller fabric; C&T Publishing, Atkinson, and Martingale patterns and books. We encourage customers to browse the thousands of different vendors on our website conveniently sorted by product category.
We are very excited to offer a shipping solution to our existing and future customers in the EU. Their purchases will be a consolidated shipment via FedEx, with no weight requirements. Our customers will not be charged VAT and it is a 3-business day transit from Checker to their store. VAT Funds will not be collected at the time of delivery and the shipments are trackable from when they leave Checker until FedEx delivers to their door. Our unparalleled selection of quilting products is now very affordable and FAST to the EU.
We are family owned and just real people helping independent shop owners to be successful. Our incredible selection and the customer experience thru our website and customer service reps, plus the new consolidated shipping program to the EU can't be beaten. Try us you'll be hooked!
A new customer can open an account by contacting a Customer Service Representative Monday - Friday, 8 a.m. - 5 p.m. EST, via phone 001-419-893-3636, online chat at www.checkerdist.com, or email custservice@checkerdist.com.
---
Dannells/Needcraft (View profile)
MD House, 13 Abbeymead Industrial Park, Brooker Road, Waltham Abbey, Essex EN9 1HU England
Tel: 01992 700 311
Fax: 01992 769 521
Email:
info@dannells.com
Web:
https://www.dannells.com





Lampshade making kits
Group making & Workshop packs
Backings - Fabrics - Laminates
Self adhesive materials
Wooden table lamps and standard lamps for painting
Tapes - Trimmings
Frames - Tools
Lantern Kits
Lampshade Manufacturing Packs
---
EDITEX (View profile)
Ondernemersstraat 3d, Lier, 2500 Belgium
Tel: +3 236 642 164
Email:
bart@editex.be
Web:
www.editex.be

Wholesales business in dress fabrics - Women and Children.
Since 1945, Editex has been responsible for delivering high quality fabrics, mostly produced in Europe, to fabric retailers and starting confection brands.
Since a few years we have successfully added GOTS labelled organic cotton children fabrics to our wide collection.
---
EQS Ltd (View profile)
11 Lliffe House, Iliffe Avenue, Leicester, LE2 5LS UK
Tel: 0116 271 0033
Fax: 0116 271 0099
Email:
sales@eqsuk.com
Web:
www.eqsuk.com



The UK's largest selection of cotton fabrics
The UK's largest selection of cotton fabrics for all quilting and sewing projects from manufacturers like Michael Miller Fabrics, Riley Blake Designs, Studio e fabrics, P&B, Clothworks, Blank & Sew Simple. Visit our site at www.eqsuk.com for more information.
---
Fabric Freedom / Perfect Occasions (View profile)
Wholesale Buildings, Woodhead Road, Bradford, West Yorkshire BD7 1PD
Tel: 01274 414887
Email:
sales@fabricfreedom-perfectoccasions.co.uk
Web:
www.fabricfreedom.co.uk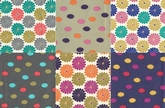 Fabric Freedom design and print a unique and superb range of superior quality 100% cotton fabrics, created especially for patchwork and quilting.
Fabric freedom are a British company with our design studio based in the UK and extensive warehousing in Bradford. We supply and sell through retailers, manufacturers and international distribution companies only but our website is also available to give you an opportunity to view our latest designs and help with individual customer selections. Quilters will be delighted to see our very wide range of co-ordinated prints, as well as our batiks, solids and unique blending fabrics.
Fabric Freedom also have exciting quilts for you to enjoy with free patterns, inspired by most of our collections. We aim to produce the very best quality cotton fabrics available that are great for use in all quilting and craft projects. Fabric Freedom are constantly adding new and exciting designs to our range of fabrics and we welcome you to our website, whether for the first time or as a regular user.
---
Graham Smith Fabrics Ltd (View profile)
Bedes Close, James Street, Thornton, Bradford, West Yorkshire BD13 3NR
Tel: 01274 507022
Fax: 01274 832100
Email:
gsfabrics@btconnect.com
Web:
www.grahamsmithfabrics.com
Suppliers of quality dress fabrics for the last 21 years.
---
Hantex Ltd (View profile)
Unit 1, Whitehouse Yard Business Centre, Eaudyke, Friskney, Boston, Lincolnshire PE22 8NL United Kingdom
Tel: 01754 820800
Fax: 01754 820110
Email:
sales@hantex.co.uk
Web:
www.hantex.co.uk
Wholesale distributors of knitting, sewing and craft products, with an emphasis on fashion sewing for clothes and home decor.
Low minimum first order, FREE carriage over £130 and full online order system.
---
Indigo Fabrics (View profile)
P.I. EL PLA DE SANT VICENT Calle Melcior Torro 3, ONTINYENT, VALENCA 46870 España
Tel: + 34 962 910 946
Fax: +34 962361087
Email:
info@indigofabrics.net
Web:
www.indigofabrics.net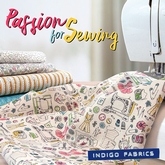 Passion For Sewing
We design and develop our own collections with a wide range of themes, from classic to modern, designs in elegant but bold Mediterranean colours which allow the creation of the perfect patchwork quilt, and beautiful fashion (as seen on our web page www.indigofabrics.net). Original designs and collections that adapt perfectly to all styles, themes and seasons of the year.
Fall in love with the soft colors and soft drawings of our brand Baby Boom, Baby Fabrics with delicate and loving collections on 100% cotton base cloths such as piqué, canutillo, boutie, calico and other fabrics with baby designs from 0 to 4 years old.
Furthermore we offer a bespoke service of design development to the exclusive requirements of the customer. Our extensive factory has facilities for weaving, printing, dying, finishing and design with the latest machinery and technology.
We have a passion for sewing (#passionforsewing), and a passion for fabrics, and we like to be on trend
Website: www.indigofabrics.net
contact: info@indigofabrics.net
---
Littondale Craft Fabrics & Waddings (View profile)
Embsay Mills, Embsay, Skipton, North Yorkshire BD23 6QF
Tel: 01756 793908
Email:
info@eborfabrics.co.uk
Web:
www.eborfabrics.co.uk
The World of Susy Bee
An amazing and whimsical collection of Childrens prints. The designer Susy Bleasby worked on childrens hospital wards as an artistic decorator which led to her designing for childrens fabrics.
---
Marvic Fabrics (View profile)
Unit 1, 184 St Albans Road West, Hatfield, Hertfordshire AL10 0TF
Tel: 020 8569 3233
Email:
enquiries@marvicfabrics.co.uk
Web:
www.marvicfabrics.co.uk
DRESS AND FASHION FABRICS ALL AVAILABLE FROM STOCK.
Established Over 20 years supplying fabric retailers throughout the UK & mainland Europe.
Ever-changing collection includes woolens, jersey, cotton, viscose, polyester, silk, and brocades. Plain and printed.
Contact us to make an appointment to view our range.
---
Michael's Bridal Fabrics (View profile)
Unit F4, Northfleet Indst Est, Lower Road, Northfleet, Kent DA11 9SW
Tel: 01322 380480
Fax: 01322 380680
Email:
admin@michaelsbridalfabrics.co.uk
Web:
http://www.michaelsbridalfabrics.co.uk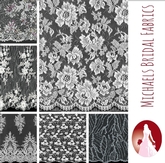 We offer a fast, reliable and friendly service on our continually increasing range (currently over 3,500 choices) of bridal fabrics, embroidered and beaded edgings, motifs and accessories.
Our range of dress accessories now exceeds 1000+ articles including many brooches and buckles with crystals and pearls.
---
Nunoya (View profile)
Tel: +34 93 3175388
Email:
info@nunoya.com
Web:
www.nunoyapro.com

Nunoya specializes in the importation and distribution of Japanese and European fabrics.
Our principal brands are Kokka, Nani Iro, Echino and Inkalily Fabrics.
Our clients are varied, ranging from small to large fabric shops and from individual fashion designers to respected fashion brands.
JAPANESE FABRICS
Kokka's fabrics are diverse in both design and composition. Their designs cover Japanese florals, cute kawaii motifs, modern abstract.
At Stitches we will be presenting the new Nani Iro 2018 collection. The brand's founder, the Naomi Ito, is a painter whose artistic creations are transformed into completely unique fabrics.
EUROPEAN FABRICS
We will also showcase at CHSI, fabrics from the Belgian brands, Chat Chocolat and See you at Six.
For those who could not make the Stitches show, our next UK show will be London's Textile Forum in March. Of course, you are always welcome to visit us in Barcelona or contact us by email or phone.
---
The Behrens Group (View profile)
Centrepoint, Marshall Stevens Way, Manchester, M17 1PP
Tel: 0161 872 1444
Email:
retail@behrens.co.uk
Web:
www.behrens.co.uk
We are the UK Distributor for many well known patchwork/quilting fabric producers
Northcott Fabrics
QT Fabrics
Camelot Fabrics
Maywood Studio
David Textiles
Midwest Embroideries
Some lines stock supported. Extensive stock supported
We also have a collection of Basic Fabrics for most end uses. Bridal fabric by the roll and cut lengths. Competitive prices and next day delivery.
---
Visage Textiles Ltd (View profile)
9-11 Chatley Street, Cheetham Hill, Manchester M3 1HU
Tel: 0161 832 9431
Email:
sales@visagetextiles.com
Web:
www.visagetextiles.com




The Craft Cotton Co
A new and exciting venture launched by Visage Textiles Ltd.
Fantastic range of 100% cotton novelty prints & fat quarters.