---
Art Van Go (View profile)
The Studios, 1 Stevenage Road, Knebworth, Hertfordshire SG3 6AN
Tel: 01483 814946
Email:
art@artvango.co.uk
Web:
www.artvango.co.uk
Distributors of Jacquard Products, the leading American manufacturer of art materials for textiles suitable for home crafters to professional designers. Their ranges include dyes, fabric paints, screenprint inks and print-on fabrics under brand names such as Lumiere, iDye, PearlEx, Dye-na-Flow. Art Van Go also distribute Angelina fibre, KK Glue, FuseFX, the ART VAN GO Publications range of textile art books and DOUBLE TROUBLE publications.
---
Daily ART, UAB (View profile)
Mainu g 19, Klaipeda, Klaipeda LT94101 Lithuania
Tel: +3706 563 3790
Email:
sales@dailyart.eu
Web:
www.dailyart.eu


Premium Craft Acrylic Paint
Versatile premium quality safe to use matt acrylic paint. No priming and varnishing. Excellent coverage and high pigment load. 60 bright and vivid colors.
Wholesale prices
25 ml 0.35 EU
50 ml 0.68 EU
100 ml 0.99 EU
300ml 2.31 EU
Chalky paint, metallic and pearl paints are available.
---
Dannells/Needcraft (View profile)
MD House, 13 Abbeymead Industrial Park, Brooker Road, Waltham Abbey, Essex EN9 1HU England
Tel: 01992 700 311
Fax: 01992 769 521
Email:
info@dannells.com
Web:
https://www.dannells.com





Lampshade making kits
Group making & Workshop packs
Backings - Fabrics - Laminates
Self adhesive materials
Wooden table lamps and standard lamps for painting
Tapes - Trimmings
Frames - Tools
Lantern Kits
Lampshade Manufacturing Packs
---
EM Richford Ltd / Personal Impressions (View profile)
Curzon Road, Chilton Industrial Estate, Sudbury, Suffolk CO10 2XW
Tel: 01787 375241
Email:
pisales@personalimpressions.com
Web:
www.personalimpressions.com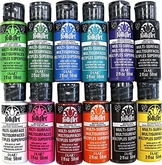 Paints, varnishes, mediums, special finishes, surfaces
Wholesale supplies of:
Paints (acrylic, glitter, cream, wax, gilt, chalkboard, indoor, outdoor, neon, metallic, transluscent, irridenscent, dimensional, textured, fabric paints, home décor, glass, china, porcelain, lustres); merchandising stands; display racks; Card; Inks; Decoupage glues; Decoupage papers; Decoupage tools; Glitters; Glues; Tapes; adhesives; Image Transfer; Knives; Mediums; Speciality Finishes; Mixed media; Paint by numbers; Patterned Rollers; Paper Loose; Paper Pads; Pens & Markers; Photo Transfer; Punches; Resist products; Scissors; Sealers; Sponges; Stencils; Templates; Tools; Varnishes (Brush & Spray).
Surfaces include: Canvas; Chipboard, MDF, Paper; Papier Mache; Wood.
Brands include: DecoArt; Fiskars; Gelli Arts; Martha Stewart; Media Mixage; Plaid - Apple Barrel;
Plaid - Bucilla; Plaid - Ceramcoat; Plaid - Delta Creative; Plaid - FolkArt; Plaid - Gallery Glass; Plaid - Martha Stewart; Plaid - Mod Podge; Plaid - Stencil Décor; Tim Holtz idea-ology; Ranger; Trimcraft; Tsukineko; Decopatch; Pebeo; Royal and Langnickel; Ranger
---
Jakar International Ltd (View profile)
410 Centennial Avenue Centennial Park, Elstree, WD6 3TJ United Kingdom
Tel: 020 8381 7000
Fax: 020 8953 0007
Email:
info@jakar.co.uk
Web:
www.jakar.co.uk
Jakar International Ltd was established in 1949 by Lydia Sacki, who was the current owner Paul Sacki's grandmother. Paul joined the company in 1979.
The company started by selling goods imported from Germany, like drawing instruments and Cuckoo clocks.
Since 1960, the company has been distributing Jakar drawing instruments as well as many other stationery and artists' materials, including Caran d'Ache, the world renowned 100% Swiss made artists' materials and colouring products.
---
Manor House Hotel (Okehampton) Ltd (View profile)
Fowley Cross, Okehampton, Devon EX20 4NA
Tel: 0800 197 7552
Email:
enquiries@manorhousehotel.co.uk
Web:
www.crafty-breaks.co.uk




Our breathtaking venues boast a range of craft & leisure facilities that we believe are without equal anywhere in the UK!
Our unique craft centre offers 18 tutored crafts including:
Pottery
Pottery Transfers
Porcelain Painting
Candle Making
Enamelling
Painting & Sketching
Fabric Painting
Silk Painting
Card Making
Woodwork
Embroidery
Glass Painting
Glass Engraving
Jewellery Making
Hot Press Printing
Pyrography ...& MORE!
All facilities are FREE to residents with the exception of nominal material costs in the Craft Centre.
---
PlastiKote Ltd (View profile)
Motip Dupli BV Wolfraamweg 2d 8471 XC Wolvega, , The Netherlands
Tel: +31 561 694400
Email:
customerservice@nl.motipdupli.com
Web:
www.plastikote.co.uk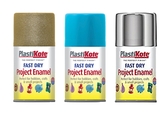 PlastiKote Fast Dry Enamel spray paint
Perfect for craft and small projects, PlastiKote Fast Dry Enamel spray paint is available in 100ml cans, comes in colour, metallic and glitter finishes, is easy to use and quick to dry.