Trade suppliers' directory
You are currently browsing: Exhibition & Services
---
Please mention Craft Focus when contacting suppliers.
---
Craft, Hobby + Stitch International (View profile)
Tel: 01425 272711
Email:
info@ichf.co.uk
Web:
www.chsi.co.uk

Europe's No.1 Creative Craft Trade Show for the Art, Craft, Fabric, Needlecraft & Hobby Industries
---
Intelligent Retail EPoS System and eCommerce (View profile)
42 Bone Lane, Newbury, Berkshire RG14 5RD United Kingdom
Tel: 0845 6800126
Email:
enquiries@intelligentretail.co.uk
Web:
www.intelligentretail.co.uk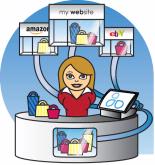 EPoS and Website for Craft Retailers
Specialists in single store retail. If you want to develop your retail business, then we can help! Call us on 0845 6800126 for a free business review.
---
Royal School of Needlework (View profile)
Apartment 12A, Hampton Court Palace, , Surrey KT8 9AU UK
Tel: +44(0)20 3166 6932
Fax: +44(0)20 8943 4910
Email:
enquiries@royal-needlework.org.uk
Web:
www.royal-needlework.org.uk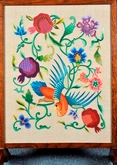 Embroidered Home Exhibition
The Royal School of Needlework has opened its doors and welcoming visitors to its latest exhibition 'The Embroidered Home'. Located at Hampton Court Palace, the exhibition reflects how homes have historically been decorated with embroidered pieces.
The new display features pieces from the RSN's unique Collection and illustrates how embroidery has been used to beautify the domestic environment. The exhibits are worked in a variety of techniques and include bedspreads, sheets, tablecloths, cushion covers, fire screens as well as smaller items such as letter holders and table mats. The exhibition embodies a fascinating social history from the 19th and 20th centuries with many pieces telling stories of their own
Booking is essential. Contact education@royal-needlework.org.uk or visit the RSN's website.
---
The Association For Creative Industries (formerly the Craft & Hobby Association) (View profile)
319 E. 54th Street, Elmwood Park, New Jersey 07407 USA
Tel: 201 835 1200
Fax: 201 797 0657
Email:
jbaum@afci.global
Web:
www.afci.global