---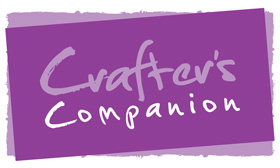 Unit 1 Horndale Avenue, Newton Aycliffe, County Durham DL5 6DR United Kingdom
Tel: 01388 660930
Fax: 01388 663260
Email:
trade@crafterscompanion.co.uk
Web:
www.crafterscompaniontrade.co.uk




Established in 2005, Crafter's Companion is one of the leading players in the UK's papercraft market. They design, manufacture and distribute innovative crafting tools and materials, and have a number of brands in the papercraft, art and sewing sectors. Everything they do is with the aim of making crafting fun and simple.
Their products have always been aimed at meeting the needs of the enthusiastic crafter, which has led them to create many inspiring products and become a household name in the craft industry.
Some of the highly popular ranges include the best-selling "Ultimate Crafter's Companion" - an all-in-one compact carry case, allowing you to score, trim, create envelopes and more, the Rock-a-Blocks - a patented stamp mounting system designed to work with a simple rocking motion, the vast Spectrum Noir colouring range and the innovative range of Die'sire metal dies. The most recent addition to Crafter's Companion's tool range is the Gemini - an electronic die-cutting machine that cuts a variety of materials such as card, paper, vinyl and fabric, and is compatible with most leading thin metal dies and embossing folders.
Talented artist Sheena Douglass also produces a large array of popular collections through Crafter's Companion, and the most recent designer to their portfolio is Debbie Shore with her comprehensive range of sewing products.
---
EM Richford Ltd / Personal Impressions (View profile)
Curzon Road, Chilton Industrial Estate, Sudbury, Suffolk CO10 2XW
Tel: 01787 375241
Email:
pisales@personalimpressions.com
Web:
www.personalimpressions.com





Commercial and Hobby Stamps
Wholesale supplies of:
Stamps (Clear; Peg, Rubber); Inks; Inkpads; Tools and Accessories.
Tsukineko Inks: Water based pigment ink (Versacraft, Fabrico Marker VersaColor, Delicata, Brilliance, Versamagic); Water-based dye ink (Memento, Memento Marker, Kaleidacolor); Water-based glue (Essential Glue Pad); Oil-based pigment ink (VersaFine); ;Oil-based metallic ink (Encore); Oil-based resist ink (VersaMark, VersaMarker); Solvent-based dye ink (Stazon); Solved-based pigment ink (Stazon); Emboss ink (Embossing Ink Pad, Embossing Pens); Distress Inks;
Ranger Inks: Adirondack, Archival, Tim Holtz Distress Inks/Cryaons/Markers/Reinkers, Stickles, Liquid Pearls.
Brands:
Advantus; American Crafts; Bazzill Basics; Imaginisce; Crate Paper; Heidi Swapp; Pebbles; Pink Paislee; Project Life,; Sugarbelle; We R Memory Keepers; Art Deco; Anna Griffin; Art Glitter; Art Stamps; Artline; Best Creations; Bottle Cap Crafts; Card-io; Couture Creations; Craft Concepts; Crafty Impressions; DaliART; Daylight; DecoArt; Die-namites; Die-Versions; Eleganza; Elizabeth Craft Designs; Fiskars; Florartistry; Gelli Arts; Graphic 45; Hampton Art; JEJE Peel-offs; Kaiser Craft; Lindsay Mason Designs; Little B; Little Darlings; Marianne Design; Martha Stewart; Me & My Big Ideas; Media Mixage; Mod Podge; Momenta; My Colours; Paper House Productions; Pergamano; Plaid (Apple Barrel, Bucilla, Ceramcoat, Delta Creative, FolkArt; Gallery Glass; Stencil Décor); Ranger Ink (Dina Wakely, Dylusions, Susan Lenart Kazmer (Ice Resin), Tim Holtz, Vintaj; Reddy Creative Cards; Sandy Art; Shrink Art; Simple Stories; Spellbinders (Becca Feekan, Debi Adams, Donna Salazar, Lene Lok, Marisa Job, Richard Garay, Seth Apter, Stacey Caron, Stephanie Low, Tammy Tutterow); Stampers Anonymous; Art Gone Wild; Studio Light; Sweet Dixie; The Crafters Workshop; Tim Holtz idea-ology; Totally Tiffany; Trimcraft; Tsukineko; Ultimate Crafts; Viva Decor;
---
Hunkydory Crafts Limited (View profile)
Unit 2 15-19 Sedgwick Street, Preston, Lancashire PR1 1TP UK
Tel: 01772 272575
Email:
trade@hunkydorycrafts.co.uk
Web:
www.hunkydorycrafts.co.uk


Here at
Hunkydory
we are excited to bring you our latest innovative collections and products and, of course, our essential core ranges of Adorable Scorable, Mirri cardstock and adhesives.
Call Claire Hamer our trade sales manager on
01772 272579
or email
trade@hunkydorycrafts.co.uk
Alternatively order online at
trade.hunkydorycrafts.co.uk
---
L G Crafts Ltd (View profile)
Unit 12B Bates Industrial Estate, Church Road, Romford, Essex RM3 0HU
Tel: 01708 330800
Email:
laura@lgcrafts.co.uk
Web:
www.lgcrafts.co.uk

Craft distributor based in the UK, shipping worldwide. We currently distribute the brands That's Crafty!, AALL & Create and 13Arts, with more brands being added very soon. Low minimum order and free UK shipping on orders over £100.
---
Lavinia Stamps (View profile)
Y Llethrau Cyffylliog, Ruthin, Denbighshire LL15 2DW United Kingdom
Tel: 01824 710691
Fax: 01824 710691
Email:
enquiries@laviniastamps.co.uk
Web:
www.laviniastamps.co.uk



Lavinia stamps produce a range of unique products. All Art work has been carefully created by Tracey Dutton who has transformed her detailed imagery into a stunning range of stamps, papers, toppers and much more. Tracey has a passion for Fairies and Fantasy all of which features prominently in these stunning products.
Lavinia Stamps products are produced to a high quality; they thrive on new ideas and ventures and have a flair for bringing original innovations to the market place, ensuring their range constantly evolves in line with current demands.
---
Photocentric Ltd (View profile)
Cambridge House, Oxney Road, Peterborough, Cambridgeshire PE1 5YW UK
Tel: +44 (0)1733 349937
Email:
lisa.miles@photocentric.co.uk
Web:
www.photocentricgroup.com

Clear Photopolymer Stamps
Our Photopolymer clear stamps are a great and increasingly popular alternative to rubber Stamps. Made and packaged bespoke using your own designs in a variety of sizes, Photopolymer Stamps are known for their high quality and ink retention. Unlike rubber stamps, they can be stored easily taking up very little space, as they can be mounted onto clear acrylic blocks for use time and time again
---
Second Nature (View profile)
10 Malton Road, London, W10 5UP
Tel: 01983 209 590
Email:
jan@expressyourselfdiycards.com
Web:
www.secondnature.co.uk
Express Yourself DIY Cards is a New Company on the block in the Craft arena specialising in the area of Card Making.
The Company has excelled in making a point of difference in this market by bringing the Concept of themed looks for the product on offer.
These themes have been planned to give a dramatic customer appeal in the retail environment.
---
WOW Embossing Powder (View profile)
Caslon House, Lyon Way, St Albans, Herts AL4 0LB UK
Tel: 0870 777 8781
Fax: 0870 777 8782
Email:
sales@wowembossingpowder.co.uk
Web:
trade.wowembossingpowder.co.uk





WOW! Embossing Powder primarily manufactures a range of market leading high quality Embossing Powder.
Our product range has expanded to include Premium Glitters, Foils, Heat Tools, Clear Stamps, Melt-It Moulding products and we are also the European Distributor for Pink and Main Stamps and Dies.
We pride ourselves on producing the greatest powders in the world which are all painstakingly made to be static free for the best possible Embossed result.