Trade suppliers' directory
You are currently browsing: Mosaics
---
Please mention Craft Focus when contacting suppliers.
---
Craftiv8 ltd (View profile)
Studio 25, Canal Warehouse, Leicester Row, Coventry, West Midlands CV1 4LH
Tel: 024 77676439
Email:
hilary@craftiv8.com
Web:
www.craftiv8.com




Craftiv8 is a start up technology and craft company, whose aim is to join technology and traditional crafting.
Craftiv8 formed in February 2017 and its first product is Galactic Plastic, which combines a new material with traditional marbling and resin working styles.
---
Pixelhobby UK (View profile)
10 Clover Way, Bridgwater, Somerset TA5 2EY UK
Tel: 01278 429804
Email:
sales@pixelhobby.org.uk
Web:
www.pixelhobby.org.uk



Pixelhobby UK is the official distributor in the United Kingdom and Ireland. Pixelhobby is a craft that people of all ages can enjoy. By pulling off pixels and placing them on a baseplate you can create a beautiful picture. Our pixels come in two sizes, standard and XL, which makes the product great for adults and children alike. We offer exclusive kits in both size pixels. Our larger kits are works of art that anybody can create. With the diverse range of colours available we can create a pixel kit of any picture allowing customers to personalise the craft.
---
The House Of Crafts Ltd (View profile)
213 Gloucester Crescent, Wigston, Leicestershire LE18 4YH UK
Tel: 0116 2780748
Fax: 0116 2786293
Email:
info@houseofcrafts.co.uk
Web:
www.houseofcrafts.co.uk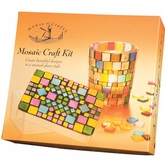 Mosaic Craft Kit
For thousands of years craftsmen and women have used mosaics for all manner of designs. This superb kit introduces crystalline mosaics - transparent coloured tiles for a magnificent stained glass effect. A glass votive and trinket box are included to decorate.