---
Craftiv8 ltd (View profile)
Studio 25, Canal Warehouse, Leicester Row, Coventry, West Midlands CV1 4LH
Tel: 024 77676439
Email:
hilary@craftiv8.com
Web:
www.craftiv8.com




Galactic Plastic
Galactic Plastic is a new colourful low melt crafting and sculpting plastic. This unique art material is flexible, skin safe and easy to work with. Can bond to itself and to any material with a bit of texture. Can be used in a wide range of 2d and 3d applications. The material can be used with polymer clay already baked to add fine details and flexible parts or on its own to make wonderful sculptures.
---
Daily ART, UAB (View profile)
Mainu g 19, Klaipeda, Klaipeda LT94101 Lithuania
Tel: +3706 563 3790
Email:
sales@dailyart.eu
Web:
www.dailyart.eu


Producers of Art & Craft materials. More than 1000 high-quality safe to use products manufactured within the European Union.
* Acrylic Paint
* Pastes and Gels
* Spray Inks
* Plastic Stencils
* Embellishments
* Creative Sets
* Studio Gouache
* Gilding Materials
* Decoupage Glue
* Fabric Hardener
* Mica Pearl Pigment
* Craft Adhesives
Register now online at www.dailyart.eu
---
FMM SugarCraft (View profile)
7 Chancerygate Business Centre, Whiteleaf Road, Hemel Hempstead, HP3 9HD
Tel: 01442 292970
Email:
sales@fmmfuncraft.com
Web:
www.fmmfuncraft.com
FMM Funcraft Bright & Light Air Drying Clay
FMM Funcraft's Bright & Light is a super lightweight air drying modelling clay. This clay is easy to work with and dries to a firm consistency within a few hours. Perfect for creating intricate items such as flowers, leaves and jewellery. Great for home décor projects such as photo frames, plaques, mixed media craft and homemade cards. Fantastic for use with FMM Funcraft Textured Mats.
---
Photocentric Ltd (View profile)
Cambridge House, Oxney Road, Peterborough, Cambridgeshire PE1 5YW UK
Tel: +44 (0)1733 349937
Email:
lisa.miles@photocentric.co.uk
Web:
www.photocentricgroup.com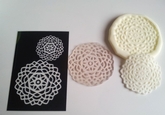 Photopolymer Stamps & Stampmaker Kits
At Photocentric we offer bespoke Stamps which are used as texture plates, for embossing and de-bossing designs, patterns and textures onto polymer clays. We also offer Stampmaker kits which allows consumers and small businesses to create their own custom one-off designs at home. Popular uses various specific shapes and patterns that would otherwise be difficult to achieve