---
Peak Dale Products Ltd (View profile)
Dale Road, Peak Dale, Buxton, Derbyshire SK17 8BR United Kingdom
Tel: 01298 78447
Fax: 01298 74105
Email:
sales@peakdaleproducts.co.uk
Web:
www.peakdaleproducts.co.uk


Metal Crafts
Our metals are of the highest quality we could source. They are either German or American made to the tightest specifications and purest forms. We then hand roll each individual roll, checking for any imperfections along the way.
Each of our metals, copper, pewter, aluminium and brass, come in different lengths and widths so its best to check on our website to see our range.
Our range of metal embossing kits has something to suit everyone.
First off there is a 6 projects kit. This includes everything to make key rings, magnets, brooches and a decorative wooden box. This kit contains over 20 elements in the box so is unbelievable value for money.
Next we sell an embossed clock kit. It includes everything you need to make a copper clock including the clock movement, clock face, piece of copper and all the tools, instructions and patterns you will need.
Last but certainly not least we sell a metal frame kit. This kit enables you to create a beautifully embossed picture frame perfect for displaying pictures of loved ones.
For copper enamelling we have a massive range of copper and aluminium blanks in a range of different sizes and shapes. See our website for more details
http://www.peakdaleproducts.co.uk
---
The Scientific Wire Company (View profile)
Unit 3, Zone A, Chelmsford Road Ind Estate, Great Dunmow, Essex CM6 1HD
Tel: 01371 238013
Fax: 01371 871882
Email:
ray@wires.co.uk
Web:
www.trade-wires.co.uk
TO FOLLOW
---
Wholesale Beads (View profile)
Unit 15, Williams Industrial Park, New Milton, Hampshire BH25 6SH UK
Tel: 01425 837244
Email:
sales@wholesale-beads.eu
Web:
www.wholesale-beads.eu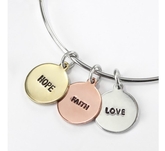 ImpressArt Metal Stamping
We stock the range of ImressArt metal stamping products - from stamping blanks to professional 'Premium' letter sets, plus over 250 Design Stamps.