Pixelhobby UK
10 Clover Way, Bridgwater, Somerset TA5 2EY UK
Telephone: 01278 429804
Email: sales@pixelhobby.org.uk
Company Profile:
Pixelhobby UK is the official distributor in the United Kingdom and Ireland. Pixelhobby is a craft that people of all ages can enjoy. By pulling off pixels and placing them on a baseplate you can create a beautiful picture. Our pixels come in two sizes, standard and XL, which makes the product great for adults and children alike. We offer exclusive kits in both size pixels. Our larger kits are works of art that anybody can create. With the diverse range of colours available we can create a pixel kit of any picture allowing customers to personalise the craft.
Contact Name: Janet Eden
Product Categories:
Card Making, Children's Crafts, Craft Kits, Festive Crafts, Mosaics
---
Product Category: Card Making
Product Name: Floral Card Kit
Description: Recently launched in January 2018 and selling out in its first Hochanda appearance we have a vintage inspired floral 3 pack card kit.
Create these cards to give as keepsakes to friend and family for any occasion.
Contains 3 mini baseplates, 3 cards & envelopes, 19 pixelsquares.
---
Product Category: Children's Crafts
Product Name: Keyring & Magnet KIts
Description: A wide selection of over 100 different designs in bold, vibrant coloured pixels to make keyrings, magnets or framed pictures. Our popular scene selections enable children to make individual pictures that can combine together to make a fantastic scene. From Unicorns to Rockets, Pirates and Princesses we launch new designs each year.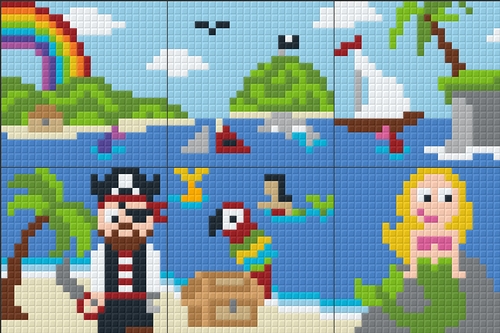 ---
Product Category: Craft Kits
---
Product Category: Festive Crafts
---
Product Category: Mosaics
---