World renowned stationery company Maped Helix has been announced as a headline sponsor of National Stationery Week, which is taking place between the 1st and 7th of October.

The Kingswinford based brand exports to over 65 countries and has been synonymous with both traditional and innovative stationery for more than 130 years. Competitions will be launched as part of Maped Helix's sponsorship of Get Crafty Day on 6th October, one of the awareness week's Seven Days of Stationery. Maped Creativ and Color'Peps prizes will be on offer, providing everything children need to get drawing, doodling, colouring and making.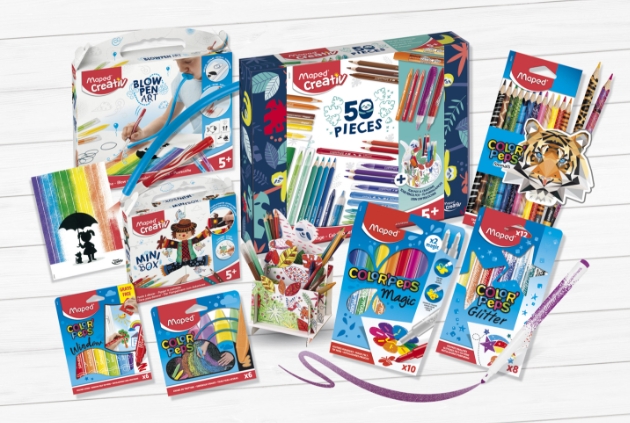 National Stationery Week reaches almost 75 million people in 90 countries, celebrating the importance of handwriting and providing an opportunity for stationery fans to share their favourite products.

Maped Helix marketing manager Lianne Fletcher commented: "Get Crafty Day is all about getting hands on with stationery so it's a natural fit for Maped Helix and our more creative product ranges. In this digital age it's hard to overestimate the importance of spending quality time away from screens and National Stationery Week is a wonderful celebration of why we should all keep putting pen to paper, so we are proud to be supporting it."

Maped Helix is a world leader in school stationery supplies, with the Blazer Buddy its most recent innovation. The protective, clear pencil case sits perfectly inside blazer pockets, preventing ink leaks, and contains two Oxford black ballpoint pens, two eraser tipped HB pencils, a pencil sharpener and a 15cm ruler.

Based in The Black Country and creating innovative stationery since 1887, Helix's Oxford Maths Set has been used by children since the '30s. Many of the company's world class stationery products are designed to inspire and stimulate children's creativity, such as the Maped Creativ and Color'Peps ranges.

For more information about Maped Helix please visit www.mapedhelix.co.uk, email info@mapedhelix.co.uk or call 01384 286860.