Downloads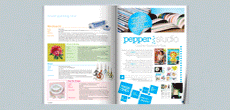 From the editor
Show business

The craft industry has changed enormously in recent years, with the advent of TV shopping, social media marketing and the changing fortunes of the high street all impacting the way retailers do business. That's why trade shows like CHSI Stitches, which takes place this month, are more important than ever, offering a vital opportunity for crafters to come together and share ideas and inspiration.
Now in its fourth decade, the event showcases innovations from more than 200 exhibitors across the craft, hobby and stitching categories, with more than 50 per cent of the industry's businesses represented. If you're looking for products and trends to delight and excite your customers, this is where you're sure to find it.
To help you make the most of your visit, we've devoted 15 pages of this issue to our in-depth show guide. Starting on page 47, you can find everything you need to know, including a look at this year's must-see exhibitors. We also spoke exclusively to Simon Burns, managing director of ICHF, who reveals what's coming up for 2019, including the release of the much-anticipated second Craft Report.
Don't forget to come and see the Craft Focus team too. We'll be exhibiting over all three days on stand G30 and we're aiming to meet as many of you as possible.
Enjoy reading.
Andrea Ashfield, Editor
PS. If you have any news you would like to submit to this site or Craft Focus magazine, please email editor@craftfocus.com
Craft Focus is the UK's No.1 Trade Magazine read by thousands of UK Retailers. Our database is constantly refreshed and we have an excellent advertiser response rate.
See for yourself!
If you're thinking of promoting your products and services, call us now and we'll post you a FREE copy and media pack without delay.
Call on
+44 (0)1376 535618
or email us:
sales@craftfocus.com
Missed an issue?
Printed copies of back issues are available for £2.95 each, including postage and packaging for UK delivery only. Either phone or email to place your order:

Phone: +44 (0)1376 514000
E-mail: backissues@craftfocus.com
(please include your postal address, telephone number and which issue/s you wish to purchase)
Alternatively, download a FREE PDF copy using the links below each issue.