Articles
Five Ways to Stop Shopping Cart Abandonment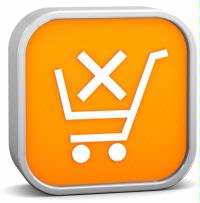 One of the banes of an e-commerce store owner's life is the discovery that many more items are placed into the online shopping cart than are actually bought. This goes under the term 'shopping cart abandonment', and it can seem that an enormous amount of potential business is being lost.

Before we look into addressing the issue, it is important to understand that potential buyers
place products into the cart for a variety of reasons. They might just be comparing costs, or it could be someone examining the competition. Customers could be checking your site before ordering by phone. Looking through your online store is like browsing a physical shop. Not everyone is a real prospect.

Having said that, a proportion of the abandoned carts represent buyers who were real prospects and then gave up. So in this article I have listed some points to consider in addressing this issue. They are mostly fairly easy to implement, and they could have a dramatic impact on your store sales.

1. Ensure buyers can trust your site. Some people get nervous when they shop online. You can address this by prominently displaying contact details, including a phone number and address along with a picture of your shop, if you have one. Cover your guarantee and returns policy and make a point that under the Distance Selling Regulations consumers have the unconditional right to return goods. Be very clear about the cost of shipping too. The more up front you are, the more people will trust you.

2. Get the technology right. Ensure that your e-commerce system allows shoppers to keep their cart contents between sessions. In other words, if their browser crashes, or they get a phone call when they are shopping on your site, you don't want them to find that their work has gone up in smoke when they return. Your e-commerce solution should also pass you details of customers that completed the checkout except for payment. Contacting them to offer help will definitely increase your sales.

"With times being hard, and the
particular danger surrounding
more discretionary items like craft
products, an online presence is
critical"

3. Don't irritate the customer. Try to make your site as easy as possible to use with clear icons for checkout and don?t force customers to create accounts. I find it amazing just how bad some sites are in this area, and I've often abandoned orders through irritation.

4. Give your customer choice. If your customer wishes to order by phone, let them. Also, try to provide for different payment methods. At the minimum you should accept credit and debit cards and PayPal. New methods like Pay Offline (where people can pay at a shop near them) may also increase your conversion rate.

5. Always measure. Use Google Analytics or a similar package to see how people are using your site. Analyse the information to find the problems and fix them. There have been cases of orders doubling from making minor changes to the site. Try things, then measure them and adjust. Nothing beats that approach.

I hope these tips can help to maximise the return from your online store. We all need all
of the help that we can get. five steps to stop shopping cart abandonment


Further information
Chris Barling is CEO of Actinic (www.actinic.co.uk) which specialises in
helping start-ups and SMEs sell online with its e-commerce software and EPOS systems. He has reentlypublished 'Selling Successfully Online - over 300 top tips for running an e-commerce website'. Available on Amazon for £7.99 or download teh free e-book at www.actinic.co.uk/top-tips.


Date Posted: