A Royal Occasion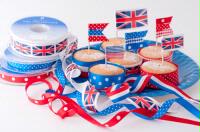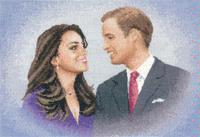 Free royal wedding sampler
Many of us love a royal wedding and it will be a day to remember. It is to be a public bank holiday which provides the opportunity to celebrate in style. Coats Crafts UK will be commemorating the event with a limited edition free Royal Wedding cross stitch chart. Sarah Brooks of Coats Crafts UK said 'Whether you are a die-hard royalist and have long been debating what the bride is going to wear, or whether you just want to peep at what the bride is wearing, there's no better way to mark the occasion. Our design team is currently working behind the scenes on a top secret design ' all will be revealed in April!'

Wave the flag
Berisford Ribbon have some patriotic ribbons with which to make the day one to remember. There are three designs available in six widths, suitable to make garlands, table decorations, buttonholes, corsages and festive bows to set off the celebrations. "Why not use them to create a royal window display, embellish a commemorative quilt or a regal table setting" said Berisfords.

Traditional portrait
William and Catherine is a lovely royal wedding cross stitch design available from Heritage Crafts. It is a head and shoulders picture, available as a full counted cross stitch kit on either Zweigart 14 ct Aida or 27 ct linda fabric. Trade price is £14.58 with RRP of approximately £34.99. "We decided to introduce this product as we are a British company and we felt the design by John Clayton would be a fitting tribute to what will be a very British occasion," said Jon Blackford of Heritage Crafts. Also available are some new London inspired designs such as Westminster Abbey and a Meerkat kit for those that want something less obviously royal.

A crafty look to china
Emma Bridgewater have produced a range of royal memorabilia, all designed by co-owner Matthew Rice. The pieces include a 1 pint lithographed mug, half pint sponge painted mug, 8 ½ inch lithographed plate and a tea towel. All the items are available from the wholesale department and RRP prices start from £10 for the tea towel to £39.95 for the boxed pint mug.

Heirlooms of the future?
DMC have designed a selection of limited edition cross stitch kits using DMC Satin, Light Effects on DMC Aida fabric. There are designs for all abilities from beginners to advanced stitchers and by stitching on 14 count Aida (some designs include iridescent Aida) they will not take long to complete but will be a lasting memory of this momentous celebration.

Media coverage
Many of the specialist magazines are covering the royal wedding of course, usually by providing free projects to make. These are good news for retailers as each project does need supplies so consider taking some magazines and including them in a Royal display. Look out for the Future craft titles. Cross Stitch Collection (issue 195 on sale from 16 March) which includes a Royal Wedding souvenir sampler featuring Prince William's coat of arms, a rose heart and images of the couple. Designed by Maria Diaz, this one is quite an advanced piece and features metallic threads and beads. CrossStitcher also has a royal sampler, stitched on white even weave using ordinary stranded cotton with some metallic thread. It is in issue 238, on sale from 22 March. In Simply Knitting (issue 79, on sale 22 March) there will be a 32 page supplement called Simply Wedding to celebrate the royal wedding. Projects include Congratulations bunting, a Horseshoe Horace lucky chimney sweep cat charm, a crown tea cosy, Union Jack beaded crown cushion and traditional ring cover.

A twist on the traditional
A number of artists were also commissioned by The Independent newspaper to create something a little out of the ordinary to commemorate the occasion, including Mr X Stitch (aka Jamie Chalmers) who designed a subversive cross stitch design with tongue-in-cheek message. "It's free to download as a PDF from www.subversivecrossstitch.com so people can share it as much as they like" explained Jamie. (He is also a great person to go to for trend advice on cross stitch.) Other 'alternative' style products include a funky tea-towel from ToDryFor, an online boutique specialising in designer tea towels. A husband and wife team based in Oxford, England, they source over 100 tea towels from numerous designers and produce their own ToDryFor range of artist-commissioned tea towels, promoting work by both prominent and up-and-coming artists and illustrators. "We always welcome comments, questions, designer submissions and general chit chat" said Sally. The Corgi tea towel is £4.25+VAT wholesale, and the minimum order is 24 tea towels across the ToDryFor range (in packs of 6 per design).

Hollys Houses design and make rubber stamps, usually of beautiful, hand drawn house portraits and personalised stationery, creating unique, personal mementos to treasure. Asked by the Independent to create a royal design, Holly also has an alternative take on tradition. Her stamps are £8 each wholesale (rrp £16 each) with a minimum order of ten. Our final unusual product is this Teacup Hairband by Clara Francis Jewellery. It is white, pink, green and gold with glass beads, and Liberty print covered band. RRP is £120 and there is no minimum order although delivery time is 3-4 weeks.

A royal ring
Following the success of the Royal Wedding in Sweden in June, 2010, Rica Sweden has launched a UK replica of Wills and Kate's engagement ring as an eye-catching key ring. Modelled on Kate Middleton's historic engagement ring, the key ring is a lifelike creation of the ring previously owned by the late Diana, Princess of Wales. An ideal gift for any Royal fan, the 'Royal Wedding' key ring has been produced in China and is made from alloy and plated imitation rhodium plastic stone, 55mm x 66mm in size. It comes with a small drawstring bag for additional protection upon sale. Rigmor Aldehag, founder of Rica Sweden, comments, "We were overwhelmed by the key ring's popularity in Sweden for our Crown Princess Victoria and Daniel Westling's wedding and we wanted to commemorate the British Royal Wedding in a similar fashion. We have been astonished by the similarity of the ring to the actual version worn by Kate Middleton and we believe that it will make a fantastic handbag accessory for any female who is looking for Royal Wedding memorabilia." The ring is available to trade from £5.50 (rrp £9.99).

Date Posted: