E-commerce - online shopping, an important sales tool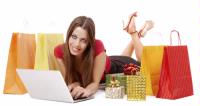 Many consumers changed their shopping patterns during the bad weather experienced last year, browsing online rather than on the high street and turning to local shops for essentials rather than making potentially treacherous journeys to out-of-town centres. "This shift in behaviour is likely to prevail as soaring petrol prices become a real problem for hard pressed consumers in 2011," said Richard Lowe, Head of Retail and Wholesale at Barclays Corporate. Yet it is not as simple as just opening up a webshop. It needs to be done with forethought, planning and commitment to succeed (see Webwise, page 91 for tips on getting started).

One of the biggest problems for retailers starting out in e-commerce is the lack of unbiased advice. "Although web designers, e-commerce suppliers and search engine consultants all have an opinion that will be freely given, we've all got a commercial axe to grind," said Chris Barling, CEO of e-commerce & EPOS specialist, Actinic. It's one of the reasons that Actinic has produced a book of over 300 e-commerce tips that can be downloaded free from their website. The book pulls together articles and advice they've had published over the years plus new material. It has been independently reviewed by editors of SME information sites so can be used as an educational baseline from which all sorts of commercial offerings can be viewed.

The benefits of ecommerce
If not enough customers are walking through your doors, then you need to reach out and find them, and an e-commerce store will bring you new customers by extending your store's reach.

"Consumers are increasingly using the web to make research online before they step foot into a store and often return to buy online for convenience once they have compared the look and feel. If you are not talking to your customers online, someone else is!"said Scott Storey, MD of CTS Retail. CTS Retail has an expansive portfolio of products and services offering solutions to all sizes of retail business, in many different retail sectors. They are a Microsoft Gold Partner reseller of Microsoft Dynamics and the only UK reseller of Cervello, a straight forward and cost effective 'software plus services' (S+S). "Having an ecommerce web store is statistically proven to increase footfall in store by up to 7%," added Scott.

Keeping up appearances
Traditional retailers are missing out on business by failing to give their online customer service the attention it deserves. That was the consensus amongst a panel of experts who debated the key issues for online retailers in 2011 at a roundtable in Manchester run by UKFast. They also agreed that while online-only vendors can concentrate solely on pleasing e-shoppers, thousands of traditional retailers with an add-on web presence are delivering an inconsistent brand image.

"My focus for 2011 is to make our customer experience online the same as the experience in-store - to make sure customers know where they are buying from, whether online or offline, and guarantee they enjoy a fluid and great experience," said Paul Walker of craft materials retailer Fred Aldous.

It's not all about price either. Experienced online retailers such as lovethoseshoes.com and Fred Aldous have found that whilst price points may drive first-time sales, it is customer service that promotes loyalty and repeat custom. Paul Walker explained "A lot of our customers are just discovering the internet and getting to grips with it. We make sure we keep things simple for them. And from a customer service perspective, we make sure they feel like they have ownership of the business. It pays off. I have customers coming to us asking if we can stock a product that they could easily get elsewhere but they would prefer to buy from us because of the extras that we offer."

Customer service is hugely important and must include honesty, consistency, developing a one-on-one relationship and, most importantly, promoting a community feel amongst customers all of which are the key aspects of providing good customer service.

Social media as part of the mix
Mobile commerce and social media shopping are also hot topics and part of the e-commerce mix. Indeed, at the recent CHA show there was a keynote presentation from Facebook Director of Market Development Randi Zuckerberg on "The Innovative Consumer - Using Facebook to Connect and Grow Your Business." If industry trade shows have taught branded manufacturers anything this year, it's that selling via traditional, branded websites is no longer enough. As technology evolves, so do modern-day consumers, constantly finding new and inventive ways to make informed purchases saving both time and money.

"Mobile and social shopping have gone from being the next big thing to becoming integral parts of today's e-commerce strategy," said Ed Stevens, Founder and CEO of Shopatron, an e-commerce provider located in San Luis Obispo, California. Shopatron not only enables brands to sell more online using a retail-integrated e-commerce system, but allows branded manufacturers to reach end consumers through innovative features such as Facebook social stores and mobile stores. While m-commerce is still gaining traction in some industries, some Shopatron stores have seen as much as 7.5% of their overall traffic generated from mobile users.

Rob Galkoff, founder of Wilmslow-based The Business Consultants, said "Retailers need to look at all of the different touch points that a customer can use to interact with a company and make sure they are all aligned with each other. If they do that, customers will keep coming back." Paul Walker added "I would never delete a comment from Facebook, even if it was negative. Things are always going to go wrong, what is important is the way you respond to it and social networks give you the opportunity to tackle it head on and show the online world how highly you regard your customers' feedback."

Jessica Lowe, Press and Marketing Manager for Harvey Nichols Manchester commented on the other big social media success story, "Twitter is great for us because customers choose to come and find you. Our customers are excited about being able to contact Harvey Nichols directly and get a response. That personal communication is really important to the promotion of a brand."

Using data-capturing wisely
Obviously one important part of e-commerce is creating a database of customers to whom mailshots and promotional offers can be sent. However, demanding customers register their details before they buy can be a complete turn-off. Glen Berd, Founder and Director of lovethoseshoes.com feels: "Being forced down a route just so that a company can add you to a database is annoying. Customers just want to buy the product."

"The data that you can collect in that way is worth less these days because there is so much of it about. What makes it valuable is how you use it," said Dale Hicks, founder of online industry networking business, The Fashion Network. "If emails are targeted correctly and give customers the info about products that they want, they can generate a significant amount of business," he added.
Date Posted: