Show News, Reviews and Reports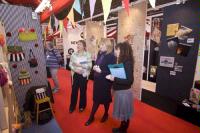 CHSI review in brief:
Attendance: up by 11.5%
Buyers' interest particularly noticeable:
Needlecrafts up by 12%, Fabrics up by 10%, Yarns and Knitting up by over 8%
and Sewing up by 11%.
Interest in Craft Materials, Gifts, and
Art Materials remained static.
Next year's dates: 19-21 Feb 2012
Contact: www.chsi.co.uk

"The sheer number of exhibitors and buyers and the level of business that was done at the show reflect an industry that continues to thrive despite a tough economic climate"

The Craft, Hobby and Stitch International show was buzzing as hundreds of exhibitors did business with buyers - from independent high street retailers to large multiples. The show was packed with new features, including a catwalk show, bringing manufacturers' offerings to life on stage, an eclectic mix of workshops and seminars and product presentations. Managing Director, David Bennett, of ICHF Events said: "We"ve had excellent feedback from both manufacturers and retailers. There was an increase in attendance of 11.5% year on year too. Exhibitors put an exceptional amount of work into creating one of the most visually stunning and inspiring shows to date."

"Stitches (CHSI) was a huge success for Coats Crafts UK this year, with the emphasis and concentration on our fabric, sewing and haby brands proving to be a popular choice amongst retailers."said Sales Director, Emma Mychajlowskyj. Particularly successful lines for them included their newest lifestyle fabric releases for both the Freespirit and Rowan brands. Alongside this, the new range from Ty Pennington also proved to be hugely popular. Coats Crafts UK also chose to showcase their comprehensive Milward haberdashery range, which also resulted in a lot of interest. "We predict that Spring will see an even more pronounced rise in popularity of the sewing and needlework sphere, and this can only be reflected in the surge in interest surrounding our haberdashery and sewing threads ranges" she added.

Groves, suppliers of sewing accessories and needlecrafts to the retail trade, reported an excellent show. MD Andrew Groves said: "At this exhibition we've really majored on the launch of the new HobbyGift collection of workboxes, knitting bags, and needlecraft cases. Tapping into the current knitting trend we've also introduced some beautiful new interchangeable bamboo needles including a luxury gift set and we showcased Hemline, one of our biggest brands offering everything to do with haberdashery - perfect for the ;make do and mend' trend. The show has been tremendously positive for us. There's a very optimistic mood across the industry as it continues to buck the trend of the recession."

This year Country Love Crafts attended CHSI under the name of DecoArt. "Our stand attracted a number of new businesses who were looking to diversify or use DecoArt to encourage additional sales of a product or service - DecoArt's acrylic paints and speciality finishes can be used on most craft surfaces, including fabric" said Jenny Hawkins. Visitors loved their extra large Salamander (a 103cm long Decopatch shape) known as 'Sally'. Sally was painted using DecoArt paints and mediums by artist Andy Skinner. "We have noticed a definite trend towards home décor items and we believe this is as a result of popular television shows like Kirstie's Homemade Home," Jenny added. Email: sales@countrylovecrafts.co.uk, Web: www.countrylovecrafts.com.

Creative Products Distribution Ltd found that Glitter-It! was defi nitely their hottest new product at the show. "Made by Beacon Adhesives Glitter-It! allows the user to transform a glass object such as a vase or Christmas bauble by one application of this amazing glue. It's so simple to apply that even a child can use it," said Mike. To help promote the product there is a video on YouTube too. For further information, contact Sales on T: +44 (0) 208 953 2143, E: sales@creative-distribution.co.uk or www.creative-distribution.co.uk.

Little Star Stitches also in the Bright Sparks Pavilion area was a newcomer to the show. Kerry Whiting said "We really enjoyed the show and met lots of helpful, friendly people. We also got a few orders and lots of leads. We have so many ideas from the show that we are actually busier now, after it, than we were getting ready for it! We learnt an awful lot and are very pleased we went."

NEW PRODUCTS
Serif unveiled the new CraftArtist range of digital crafting products. "This exciting new range provides individuals with all the tools needed to easily and quickly make professional-looking print projects including photobooks, wedding stationery, cards, scrapbooks and more at home" said Gary Bates, Serif's MD. The range includes three CraftArtist packages - Baby Photos, Greeting Cards and Scrapbooks as well as CraftArtist Platinum, the all-in-one package for every type of print project. Letraset's hot product at the show was undoubtedly the new ProMarker Blending Sets which are available in Vivid, Pastel and Muted colour selections. Each set contains 12 easy to blend ProMarker colours, a free Blender Pen and a handy blending chart (£18.14 ex VAT). "Many retailers mentioned how easy these sets make recommending colours to their customers and they also loved the attractive, easy to merchandise blister packaging," said Letraset. They also felt it was great catching up with all of their existing customers and also meeting many new ones. Contact info T: +44(0)1233 624 421 or E: enquiries@letraset.com.

NEW EXHIBITORS
As well as wowing the visitors with the Salamander on the DecoArt stand, new stamp designer for Personal Impressions, Andy Skinner, launched a set of designs at the show. Andy designed nine sets of clear stamps (unmounted, A5) with designs including: steam punk, gothic, antique, stitching, nature, altered Easter and Vegas designs. "It was a great launch pad for my new designs and I will definitely be attending future shows" said Andy. Contact info: www.andyskinner.org, www.andyskinnerorg.blogspot.com.

One of the special features of the show is the New Product Area (sponsored by Craft Focus), flanked by The Bright Sparks Pavilion which once again offered a designated area for upcoming companies and designers to showcase their products. Craft Fairy, wholesalers of ribbons, paper flowers and rubber stamps, reported a very successful show. "This is our second time at the show and it's great to see visitors that browsed last year returning to place orders this time. It's an ideal platform for us to build our brand with retailers," said owner Yvonne Randall.

DMC Creative World Ltd used the exhibition as a platform to showcase its diverse new lines as well as its ever-popular cross stitch products. Jonathan Thompson, MD, Northern Europe Region said: "We've really evolved as a business in recent years so this year's
show has been an opportunity to bring our new offerings to life. It's been a really busy show with quality leads and lots of interest in our new lines which include ribbons and bias; Prism craft thread and crochet thread kits."

Rico Design, creators of yarns, patterns, needles and accessories reported an excellent show: "We launched our new Loopy Yarn here which is set to take off from the huge success of our Pompon and Can Can yarns." In addition they launched their new Little Friends cross stitch collectable kits and patchwork family collectables. "We had a tremendous number of visitors on the stand and are delighted with the new accounts as well as the response from existing customers." Rico reported.
Date Posted: