Articles
Charity book celebrates cream of craft talent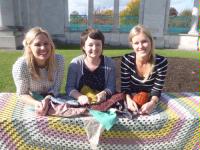 Three creative friends from Nottingham have capitalised on Britain's thriving craft scene, by putting together 20 Crafty Makes, a book in aid of the Stroke Association. The book features a variety of craft projects with step-by-step guides and photos, donated by makers across the UK, as well as from America and New Zealand.

Around 150,000 people have a stroke in the UK every year and it is the leading cause of severe adult disability. There are over one million people in UK living with the effects of stroke. The Stroke Association is a leading charity, campaigning for improvements in care. It supports stroke sufferers and assists them in making the best recovery possible and funds research into treatments and preventative measures.

Being featured in the book has special significance for artist Joan Beal, 77, who had a stroke in 2007. Joan says: "I was washing-up when I felt disorientated and was convinced my hands had risen above my head. I screamed and my husband rang for an ambulance and I was rushed to hospital. It was a frightening experience as I couldn't make simple hand movements or walk. But I was determined and finally starting moving and walking again. I am very lucky in my recovery. Crafting has certainly helped with my rehabilitation, because it forced me to get out of the house and meet people at groups. I'm really pleased to be involved in the book, it's a great way to raise money for the charity."

Artist Katie Brosnan, 27, is part of the team that created the book. She says: "Someone has a stroke every five minutes in the UK, but it's often misunderstood. Many people see it as an older person's disease, but a quarter of stroke survivors are under 65. We chose to raise money for the charity because we want to raise awareness of how to prevent strokes to a younger audience."

The book makes a fabulous present or make some of the projects for yourself. Th book costs £5 and is available from www.20craftymakes.folksy.com

100 per cent of the proceeds go to the Stroke Association.
Date Posted: 12 March 2015