---
Unit 1 Horndale Avenue, Newton Aycliffe, County Durham DL5 6DR United Kingdom
Tel: 01388 660930
Fax: 01388 663260
Email:
trade@crafterscompanion.co.uk
Web:
www.crafterscompaniontrade.co.uk




Established in 2005, Crafter's Companion is one of the leading players in the UK's papercraft market. They design, manufacture and distribute innovative crafting tools and materials, and have a number of brands in the papercraft, art and sewing sectors. Everything they do is with the aim of making crafting fun and simple.
Their products have always been aimed at meeting the needs of the enthusiastic crafter, which has led them to create many inspiring products and become a household name in the craft industry.
Some of the highly popular ranges include the best-selling "Ultimate Crafter's Companion" - an all-in-one compact carry case, allowing you to score, trim, create envelopes and more, the Rock-a-Blocks - a patented stamp mounting system designed to work with a simple rocking motion, the vast Spectrum Noir colouring range and the innovative range of Die'sire metal dies. The most recent addition to Crafter's Companion's tool range is the Gemini - an electronic die-cutting machine that cuts a variety of materials such as card, paper, vinyl and fabric, and is compatible with most leading thin metal dies and embossing folders.
Talented artist Sheena Douglass also produces a large array of popular collections through Crafter's Companion, and the most recent designer to their portfolio is Debbie Shore with her comprehensive range of sewing products.
---
Bothy Threads Ltd (View profile)
Unit 2b, Lakeland Business Park, Cockermouth, CA13 0QT
Tel: 01900 828844
Fax: 01900 828844
Email:
info@bothythreads.com
Web:
www.bothythreads.com


Bothy Threads has a range of modern cross stitch designs from over 20 artists, including:
- Wrendale Designs
- Derwentwater Designs
- Santoro's Gorjuss
- Margaret Sherry's characters
- Amanda Loverseed's Cut Thru' designs
- Moira Blackburn's traditional samplers
and Kim Anderson's Love series.
In addition, we have more traditional designs from L S Lowry & William Morris
We also distribute John James needles and Zweigart fabric.
---
Dannells/Needcraft (View profile)
MD House, 13 Abbeymead Industrial Park, Brooker Road, Waltham Abbey, Essex EN9 1HU England
Tel: 01992 700 311
Fax: 01992 769 521
Email:
info@dannells.com
Web:
https://www.dannells.com





Lampshade making kits
Group making & Workshop packs
Backings - Fabrics - Laminates
Self adhesive materials
Wooden table lamps and standard lamps for painting
Tapes - Trimmings
Frames - Tools
Lantern Kits
Lampshade Manufacturing Packs
---
EDITEX (View profile)
Ondernemersstraat 3d, Lier, 2500 Belgium
Tel: +3 236 642 164
Email:
bart@editex.be
Web:
www.editex.be

Wholesales business in dress fabrics - Women and Children.
Since 1945, Editex has been responsible for delivering high quality fabrics, mostly produced in Europe, to fabric retailers and starting confection brands.
Since a few years we have successfully added GOTS labelled organic cotton children fabrics to our wide collection.
---
Empee Silk Fabrics Ltd (View profile)
31 Commercial Road, Edmonton, London N18 1TP
Tel: 020 8887 6000
Email:
empee@wholesalefabrics.co.uk
Web:
www.wholesalefabrics.co.uk

For over 140 years Empee Silk Fabrics has been providing quality wholesale fabrics to the fashion trade, retail shops, market traders, bridal wear, event organisers and theatrical and film industries.
Empee Silks Fabrics became a limited company in 1940 and since then has continued to grow into one of the UK's leading fabric wholesalers, stocking the most extensive ranges of fabrics in the United Kingdom. With over 4 million metres of fabric under one roof, it's a one stop shop for all your material needs.
Customers will find ordering easy using our online ecommerce store www.wholesalecraftfabrics.co.uk which also features special offers on some lines. Our unique selling point is that our minimum order is only 10m of each fabric, which allows the customer to purchase a wide range of fabrics at a lower cost.
We can happily book one of our salesman to come and visit you or alternatively stop by our showroom and see for yourself our extensive range.
---
Fabric Freedom / Perfect Occasions (View profile)
Wholesale Buildings, Woodhead Road, Bradford, West Yorkshire BD7 1PD
Tel: 01274 414887
Email:
sales@fabricfreedom-perfectoccasions.co.uk
Web:
www.fabricfreedom.co.uk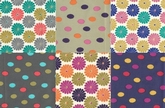 Fabric Freedom design and print a unique and superb range of superior quality 100% cotton fabrics, created especially for patchwork and quilting.
Fabric freedom are a British company with our design studio based in the UK and extensive warehousing in Bradford. We supply and sell through retailers, manufacturers and international distribution companies only but our website is also available to give you an opportunity to view our latest designs and help with individual customer selections. Quilters will be delighted to see our very wide range of co-ordinated prints, as well as our batiks, solids and unique blending fabrics.
Fabric Freedom also have exciting quilts for you to enjoy with free patterns, inspired by most of our collections. We aim to produce the very best quality cotton fabrics available that are great for use in all quilting and craft projects. Fabric Freedom are constantly adding new and exciting designs to our range of fabrics and we welcome you to our website, whether for the first time or as a regular user.
---
Graham Smith Fabrics Ltd (View profile)
Bedes Close, James Street, Thornton, Bradford, West Yorkshire BD13 3NR
Tel: 01274 507022
Fax: 01274 832100
Email:
gsfabrics@btconnect.com
Web:
www.grahamsmithfabrics.com
Suppliers of quality dress fabrics for the last 21 years.
---
Hantex Ltd (View profile)
Unit 1, Whitehouse Yard Business Centre, Eaudyke, Friskney, Boston, Lincolnshire PE22 8NL United Kingdom
Tel: 01754 820800
Fax: 01754 820110
Email:
sales@hantex.co.uk
Web:
www.hantex.co.uk
Wholesale distributors of knitting, sewing and craft products, with an emphasis on fashion sewing for clothes and home decor.
Low minimum first order, FREE carriage over £130 and full online order system.
---
Littondale Craft Fabrics & Waddings (View profile)
Embsay Mills, Embsay, Skipton, North Yorkshire BD23 6QF
Tel: 01756 793908
Email:
info@eborfabrics.co.uk
Web:
www.eborfabrics.co.uk
The World of Susy Bee
An amazing and whimsical collection of Childrens prints. The designer Susy Bleasby worked on childrens hospital wards as an artistic decorator which led to her designing for childrens fabrics.
---
Michael's Bridal Fabrics (View profile)
Unit F4, Northfleet Indst Est, Lower Road, Northfleet, Kent DA11 9SW
Tel: 01322 380480
Fax: 01322 380680
Email:
admin@michaelsbridalfabrics.co.uk
Web:
www.michaelsbridalfabrics.net
We offer a fast, reliable and friendly service on our continually increasing range (currently over 3,500 choices) of bridal fabrics, embroidered and beaded edgings, motifs and accessories.
Our range of dress accessories now exceeds 950+ articles including many brooches and buckles with crystals and pearls.
---
Ragdoll Ribbons (View profile)
Newgale House, Brawdy Business Park, Haverfordwest, Pembrokeshire SA62 6NP Wales
Tel: 01437 929317
Email:
enquiries@ragdollribbons.co.uk
Web:
www.ragdollribbons.co.uk
Haberdashery Supplies - Ribbons, Lace, Trims and More
Ragdoll Ribbons stock a fantastic range of high quality yet affordable Ribbons, trims, lace, twine etc, to inspire your creativity. Packed full of haberdashery supplies that are perfect to add a unique finishing touch.
Suppliers of May Arts, Vivant, Hemptique and their own brand of lace and ribbons.
Trade accounts available.
---
Visage Textiles Ltd (View profile)
9-11 Chatley Street, Cheetham Hill, Manchester M3 1HU
Tel: 0161 832 9431
Email:
sales@visagetextiles.com
Web:
www.visagetextiles.com




The Craft Cotton Co
A new and exciting venture launched by Visage Textiles Ltd.
Fantastic range of 100% cotton novelty prints & fat quarters.