---
Bothy Threads Ltd (View profile)
Unit 2b, Lakeland Business Park, Cockermouth, CA13 0QT
Tel: 01900 828844
Fax: 01900 828844
Email:
info@bothythreads.com
Web:
www.bothythreads.com


Bothy Threads has a range of modern cross stitch designs from over 20 artists, including:
- Wrendale Designs
- Derwentwater Designs
- Santoro's Gorjuss
- Margaret Sherry's characters
- Amanda Loverseed's Cut Thru' designs
- Moira Blackburn's traditional samplers
and Kim Anderson's Love series.
In addition, we have more traditional designs from L S Lowry & William Morris
We also distribute John James needles and Zweigart fabric.
---
Fabric Freedom / Perfect Occasions (View profile)
Wholesale Buildings, Woodhead Road, Bradford, West Yorkshire BD7 1PD
Tel: 01274 414887
Email:
sales@fabricfreedom-perfectoccasions.co.uk
Web:
www.fabricfreedom.co.uk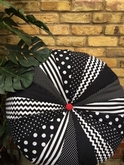 Fabric Freedom design and print a unique and superb range of superior quality 100% cotton fabrics, created especially for patchwork and quilting.
Fabric freedom are a British company with our design studio based in the UK and extensive warehousing in Bradford. We supply and sell through retailers, manufacturers and international distribution companies only but our website is also available to give you an opportunity to view our latest designs and help with individual customer selections. Quilters will be delighted to see our very wide range of co-ordinated prints, as well as our batiks, solids and unique blending fabrics.
Fabric Freedom also have exciting quilts for you to enjoy with free patterns, inspired by most of our collections. We aim to produce the very best quality cotton fabrics available that are great for use in all quilting and craft projects. Fabric Freedom are constantly adding new and exciting designs to our range of fabrics and we welcome you to our website, whether for the first time or as a regular user.
---
Pavilion Books (View profile)
43 Great Ormond Street, London, WC1N 3HZ United Kingdom
Tel: 020 7462 1500
Email:
sales@pavilionbooks.com
Web:
www.pavilionbooks.com




Pavilion brings you innovative books within various crafts including crochet, knitting, sewing and papercraft. Our bestselling authors include Stuart Hillard, Chinelo Bally, Kerry Lord, Sally Muir and Joanna Osborne, Gillian Harris, Merchant & Mills and Mollie Makes Magazine.
Batsford, an imprint of Pavilion Books, is a leading publisher of textile, fashion, practical art and colouring books. We work with the world's best artists and illustrators to produce beautiful books for both the professional and the enthusiasts. Our authors include Millie Marotta, Jean Draper, Cas Holmes, Anne Kelly, Gwen Hedley and Kim Tittichai.