---
Eggers Delight/Elite Miniatures (View profile)
9 Thatchway Close, Littlehampton, Sussex BN17 7HQ England
Tel: 01903 725593
Email:
info@eggersdelight.com
Web:
www.eggersdelight.com
We are suppliers of everything you need to decorate eggs. PLUS our new resin miniatures.
We have braids, filigrees, stands, figures, rhinestone chain, bases, paints and much much more PLUS of course EGGS !
Duck, Goose, Rhea, Emu and Ostrich
NEW MINIATURES SECTION - all miniatures are made by us and we welcome any trade enquiries. We also make silicone rubber moulds any size from your original masters. Please contact us for a quote.
We ship all over the world and no order is too small, take a look at our web site and I'm always at the end of the phone if you have any questions.
---
Jones & Co (Nottingham) Ltd (View profile)
Lortas Road, New Basford, Nottingham, NG5 1EH United Kingdom
Tel: 0115 978 1263
Fax: 0115 942 0641
Email:
sales@jones-buttons.com
Web:
www.jones-buttons.com
Britains Leading Button Supplier
As leaders in the button industry, Jones & Co provide a one stop sourcing service for your button requirements. We stock over 50 million buttons and have our own on site dyeing plant and laboratory meaning we can match polyester, nylon and acrylic buttons to any shade and enable us to create ranges of different mixes for crafters.
Check out our button website to search by colour size or material.....
www.jones-buttons.com
If you need some advice or something special just give us a call.....
0115 9781263
We also stock hundreds of packs from the Dress It Up brand, as well as Jones button mixes. Visit our craft site to have a look around.....
www.jones-crafts.com
---
Michael's Bridal Fabrics (View profile)
Unit F4, Northfleet Indst Est, Lower Road, Northfleet, Kent DA11 9SW
Tel: 01322 380480
Fax: 01322 380680
Email:
admin@michaelsbridalfabrics.co.uk
Web:
http://www.michaelsbridalfabrics.co.uk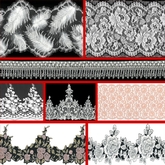 We offer a fast, reliable and friendly service on our continually increasing range (currently over 3,500 choices) of bridal fabrics, embroidered and beaded edgings, motifs and accessories.
Our range of dress accessories now exceeds 1000+ articles including many brooches and buckles with crystals and pearls.
---
P J Beads Ltd (View profile)
1st Floor, Mill 7, Mabgate Mills, Leeds, LS9 7DZ
Tel: 01704 575461
Email:
orders@beads.co.uk
Web:
www.beads.co.uk
PJ Beads is a family owned and run business for nearly 30 years. We have a fantastic range of beads, cabs and findings, all at amazing prices! Choose from semi-precious gemstones, glass beads, sterling silver findings, shell beads and cabs, Swarovski crystal and many more great products.