---
Creativeworld (View profile)
Tel: +44 (0) 1483 483983
Email:
info@uk.messefrankfurt.com
Web:
www.creativeworld.messefrankfurt.com


Join this world leading trade fair for the international hobby, arts & crafts and artists' requisites sector. At Creativeworld, exhibitors present new products, techniques and materials for decorative arts & crafts and creative hobbies, graphic and artists' requisites and handicrafts and textile design.
With its multi-faceted programme of events, Creativeworld is a source of new ideas, impulses and topical expertise. The workshop programme at Creativeworld gives manufacturers the chance to present their latest products to an interested audience of trade visitors. Buyers have the opportunity to try out new materials at the fair and discuss them with the manufacturer with a view to creating new, innovative products.
---
Focuscraft (View profile)
2/3 Merrington Business Park, Bomere Heath, Shrewsbury, Shropshire SY4 3QJ UK
Tel: 01939 291 848
Email:
sales@focuscraft.co.uk
Web:
www.focuscraft.co.uk
Celebrating 40 years + in The Craft Business
No minimum order requirement & a FREE carriage service
Our stock range includes best selling products from:-
Anchor, Berisfords Ribbons, Coats Craft UK, DMC, Dylon, Elbesee, Emu, Fiskars, Gutermann, Janome, Jean Greenhowe, Jones Buttons, KnitPro, Olfa, Patons, Prym, Regia, Robin, Royal Paris, Sehlbach & Whiting, Spotless Punch, Stylecraft, Twilley's, Velcro, Vilene, Wendy & Whitecroft.
---
Gina-B Silkworks (View profile)
East Lodge, 9 Birkholme Corby Glen, Grantham, Lincolnshire NG33 4LF United Kingdom
Tel: 07714 643362 / 07464 643362
Email:
info@ginabsilkworks.co.uk
Web:
www.ginabsilkworks.co.uk





Button making kits and materials
Looking for a great way to add a bespoke look to garments and projects? The new button making kit from Gina-B Silkworks is the answer. The Yorkshire Button Kit includes reusable acrylic looms in six sizes, threads, needle and full instructions to make a variety of different buttons. This tactile button looks great on cardigans and is perfect for beginners or experienced makers alike. Available from mid-Jan 2019
---
Hantex Ltd (View profile)
Unit 1, Whitehouse Yard Business Centre, Eaudyke, Friskney, Boston, Lincolnshire PE22 8NL United Kingdom
Tel: 01754 820800
Fax: 01754 820110
Email:
sales@hantex.co.uk
Web:
www.hantex.co.uk
Wholesale distributors of knitting, sewing and craft products, with an emphasis on fashion sewing for clothes and home decor.
Low minimum first order, FREE carriage over £130 and full online order system.
---
Jones & Co (Nottingham) Ltd (View profile)
Lortas Road, New Basford, Nottingham, NG5 1EH United Kingdom
Tel: 0115 978 1263
Fax: 0115 942 0641
Email:
sales@jones-buttons.com
Web:
www.jones-buttons.com
Britains Leading Button Supplier
As leaders in the button industry, Jones & Co provide a one stop sourcing service for your button requirements. We stock over 50 million buttons and have our own on site dyeing plant and laboratory meaning we can match polyester, nylon and acrylic buttons to any shade and enable us to create ranges of different mixes for crafters.
Check out our button website to search by colour size or material.....
www.jones-buttons.com
If you need some advice or something special just give us a call.....
0115 9781263
We also stock hundreds of packs from the Dress It Up brand, as well as Jones button mixes. Visit our craft site to have a look around.....
www.jones-crafts.com
---
Michael's Bridal Fabrics (View profile)
Unit F4, Northfleet Indst Est, Lower Road, Northfleet, Kent DA11 9SW
Tel: 01322 380480
Fax: 01322 380680
Email:
admin@michaelsbridalfabrics.co.uk
Web:
http://www.michaelsbridalfabrics.co.uk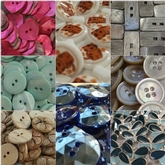 We offer a fast, reliable and friendly service on our continually increasing range (currently over 3,500 choices) of bridal fabrics, embroidered and beaded edgings, motifs and accessories.
Our range of dress accessories now exceeds 1000+ articles including many brooches and buckles with crystals and pearls.