---
Creative BeadCraft Ltd (View profile)
Unit 2, Asheridge Business Centre, Asheridge Road, Chesham, Buckinghamshire HP5 2PT
Tel: 01494 786924
Fax: 01494 776605
Email:
beads@creativebeadcraft.co.uk
Web:
www.creativebeadcraft.co.uk

Jewellery Kit Boxes
Creative Beadcraft can also supply a variety of colour co-ordinated kit boxes for jewellery making, including the glass bead kit boxes and the pony bead kit boxes shown here.
---
Grafix Arts (View profile)
5800 Pennsylvania Ave, Maple Heights, Ohio 44137 USA
Tel: 216 581 9050
Fax: 216 581 9041
Email:
info@grafixarts.com
Web:
www.grafixarts.com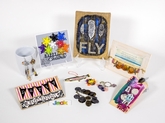 Grafix Shrink Film
Bake your Grafix Shrink Film art and watch it shrink to half its original size. Choose from Clear, White, Black, Super Sanded, Metallic Gold and Silver, and 6 bright Colors. Also, Grafix New Artist Series Shrink Film features 12 unique pre-printed designs from 3 popular industry artists: Gina Kim, Julie Fan-Fei Balzer, and Marlene Meijer-van Niekerk. Available in 8.5x11" packs of 4 sheets, containing 2 pre-printed sheets of the same style & 2 clear sheets (for tracing).! Make one of a kind jewelry, key chains, zipper pulls, magnets and more! Easy to use with die cuts, decorative scissors and punches. For even more fun, print your favorite fonts, photos and clip art on Clear or White Inkjet printable Shrink Film for personalized embellishments in no time. Available in 8.5x11" packs of 6 and 50 sheets. (Artist Series Shrink Film is only available in a 6 pack).
---
Jones & Co (Nottingham) Ltd (View profile)
Lortas Road, New Basford, Nottingham, NG5 1EH United Kingdom
Tel: 0115 978 1263
Fax: 0115 942 0641
Email:
sales@jones-buttons.com
Web:
www.jones-buttons.com
Britains Leading Button Supplier
As leaders in the button industry, Jones & Co provide a one stop sourcing service for your button requirements. We stock over 50 million buttons and have our own on site dyeing plant and laboratory meaning we can match polyester, nylon and acrylic buttons to any shade and enable us to create ranges of different mixes for crafters.
Check out our button website to search by colour size or material.....
www.jones-buttons.com
If you need some advice or something special just give us a call.....
0115 9781263
We also stock hundreds of packs from the Dress It Up brand, as well as Jones button mixes. Visit our craft site to have a look around.....
www.jones-crafts.com
---
Manor House Hotel (Okehampton) Ltd (View profile)
Fowley Cross, Okehampton, Devon EX20 4NA
Tel: 0800 197 7552
Email:
enquiries@manorhousehotel.co.uk
Web:
www.crafty-breaks.co.uk




Our breathtaking venues boast a range of craft & leisure facilities that we believe are without equal anywhere in the UK!
Our unique craft centre offers 18 tutored crafts including:
Pottery
Pottery Transfers
Porcelain Painting
Candle Making
Enamelling
Painting & Sketching
Fabric Painting
Silk Painting
Card Making
Woodwork
Embroidery
Glass Painting
Glass Engraving
Jewellery Making
Hot Press Printing
Pyrography ...& MORE!
All facilities are FREE to residents with the exception of nominal material costs in the Craft Centre.
---
The Scientific Wire Company (View profile)
Unit 3, Zone A, Chelmsford Road Ind Estate, Great Dunmow, Essex CM6 1HD
Tel: 01371 238013
Fax: 01371 871882
Email:
ray@wires.co.uk
Web:
www.trade-wires.co.uk
The leading trade supplier of craft wire.
Fortynine years supplying high quality wire.
Two million kilos of wire shipped per year.
---
Wholesale Beads (View profile)
Unit 15, Williams Industrial Park, New Milton, Hampshire BH25 6SH UK
Tel: 01425 837244
Email:
sales@wholesale-beads.eu
Web:
www.wholesale-beads.eu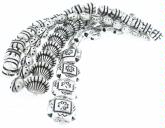 A to Z Bohemian Glass
Specialising in Czech and Japanese (Miyuki) Glass for hobbyists and serious Beaders. Supplied in bulk packs or in retail-ready tubes.