Downloads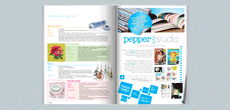 From the editor
Best in show

Our December/January issue is always an exciting one, as we look forward to a packed season of trade shows ahead. We're kicking off the proceedings in style with our six-page CHSI Stitches special. For an exclusive look at the craft products that are sure to be grabbing buyers' attention at the much-anticipated February event, go to page 31.
We'll also be turning our thoughts to the January editions of Creativeworld, Paperworld and Christmasworld. This year the sister shows are set to be bigger and better than ever, offering shop-owners a glimpse of next year's hottest trends alongside business inspiration and expert know-how. Find out more on page 45.
Don't forget that January will also mark the 78th outing for Creativation, the Association for Creative Industries' flagship event. We chat to Andria Gibbon, Vice President of Events and Education about what's coming up at the hit show in Phoenix, Arizona on page 59.
We also have lots to help you make a fresh start for 2019, with a look at the latest new products across the entire industry. There's plenty of expert advice too, as Jacqui Smith from Hantex explains how to revamp your dressmaking department and Sara Davies from Crafter's Companion reveals the secrets of holding a product demonstration in-store.
Lastly, we'd like to wish you all a Merry Christmas and a successful New Year.
Enjoy reading.
Andrea Ashfield, Editor
PS. If you have any news you would like to submit to this site or Craft Focus magazine, please email editor@craftfocus.com
Craft Focus is the UK's No.1 Trade Magazine read by thousands of UK Retailers. Our database is constantly refreshed and we have an excellent advertiser response rate.
See for yourself!
If you're thinking of promoting your products and services, call us now and we'll post you a FREE copy and media pack without delay.
Call on
+44 (0)1376 535618
or email us:
sales@craftfocus.com
Missed an issue?
Printed copies of back issues are available for £2.95 each, including postage and packaging for UK delivery only. Either phone or email to place your order:

Phone: +44 (0)1376 514000
E-mail: backissues@craftfocus.com
(please include your postal address, telephone number and which issue/s you wish to purchase)
Alternatively, download a FREE PDF copy using the links below each issue.