Downloads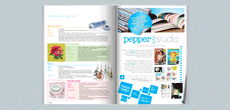 From the editor
Getting down to business

The final quarter of the year is often the most important for retailers. Known as the golden quarter, the pre-Christmas period offers a vital sales window for craft industry professionals, so now is the time to ensure that your stock selection is up-to-scratch. We have plenty to inspire you in this issue, including the second half of our festive product special, which includes a look at all the items we think are going to be a hit this season.
Earlier this month, I also caught up with Sara Davies MBE, founder of Crafter's Companion, to find out more about her amazing journey from student entrepreneur to multimillion pound businesswoman. Sara reveals what's coming up next for the beloved craft brand and shares her thoughts on the current UK industry.
Also inside, we chat to Alexie Shackleton from Cygnet Yarns and Andrew Novoty from World of Wool, while Michael Reichhold, Show Director at Messe Frankfurt tells us how plans are shaping up for Creativeworld 2019. We'll also be reviewing the latest fabric designs to hit the market, and focusing on trends in haberdashery, jewellery-making and patchwork.
Enjoy reading.
Andrea Ashfield, Editor
PS. If you have any news you would like to submit to this site or Craft Focus magazine, please email editor@craftfocus.com
Craft Focus is the UK's No.1 Trade Magazine read by thousands of UK Retailers. Our database is constantly refreshed and we have an excellent advertiser response rate.
See for yourself!
If you're thinking of promoting your products and services, call us now and we'll post you a FREE copy and media pack without delay.
Call on
+44 (0)1376 535618
or email us:
sales@craftfocus.com
Missed an issue?
Printed copies of back issues are available for £2.95 each, including postage and packaging for UK delivery only. Either phone or email to place your order:

Phone: +44 (0)1376 514000
E-mail: backissues@craftfocus.com
(please include your postal address, telephone number and which issue/s you wish to purchase)
Alternatively, download a FREE PDF copy using the links below each issue.